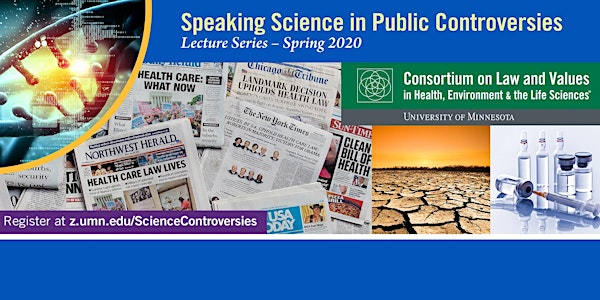 Communicating Science to Reduce Health Disparities
2020 Lecture Series--Speaking Science in Public Controversies -- Third Lecture of 3
About this event
** THIS LECTURE HAS BEEN MOVED TO ONLINE ONLY **
Prof. Kasisomayajula Viswanath, PhD--Harvard T. H. Chan School of Public Health and Dana-Farber Cancer Institute, Harvard University
Prof. Viswanath is Lee Kum Kee Professor of Health Communication in the Department of Social and Behavioral Sciences and Director of the Center for Translational Communication Science. His primary research focuses on the relationship between communication equalities, poverty and health disparities.
Commentator:
Sarah Gollust, PhD -- Associate Professor, Division of Health Policy and Management in the School of Public Health, University of Minnesota
Moderator:
Susan Wolf, JD -- Chair, Consortium on Law & Values, McKnight Presidential Professor of Law, Medicine and Public Policy, University of Minnesota
Description
A signal feature of the 21st century is the significant advances in life sciences that are yielding tremendous dividends in the improvement of health and well-being across the globe. Yet, it is clear that benefits from this life-sciences revolution are accruing unequally across population groups. Part of the reason lies in the way we communicate science to different groups, resulting in significant science communication inequalities. Communication inequalities are an enormous threat to health and well-being in the 21st Century for individuals, families, and communities. This lecture will illuminate the reality of communication inequalities and the serious health consequences. By focusing on the communication needs of the poor and underserved, this lecture will offer concrete and responsive strategies for reducing communication inequalities to advance individual and population health.
This is a free event and open to the public.
FAQs
Where do I find the link to view the webcast?
https://consortium.umn.edu/lecture/communicating-science-reduce-health-disparities-world-communication-inequalities
The link will be posted on the Consortium's web page and emailed closer to the event.
Requesting continuing education credits?
An email will be sent with a link to the Evaluation and Credit Tracker forms to complete in order to receive credit.
Where can I contact the organizer with any questions?
Call the Consortium office at 612-625-0055 or email consortm@umn.edu.