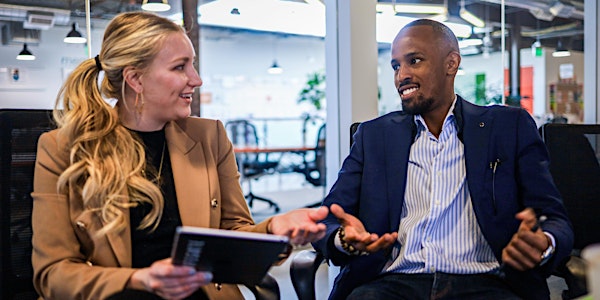 Communicate and Connect: Communication Skills for Managers and Leaders
Your personal and professional results are directly proportionate to your ability to connect with people
Refund Policy
Refunds up to 30 days before event
Eventbrite's fee is nonrefundable.
About this event
If you want to succeed, you must learn how to connect with people. And while it may seem like some people are just born with it, the fact is anyone can learn how to make every communication an opportunity for a powerful connection
Overview
The actions you take as a leader are just as important as the words you speak, and this experience will help you polish your communication style so that you can truly connect and engage with your team. If you want to boost your business outcome, spread your influence, and become a more effective communicator overall, you won't want to miss this opportunity.
This unique course is designed to give you a strong foundation in essential communication skills and competencies. Through practice sessions and role-plays, you'll be on your way to developing the confidence and communication know-how you need to establish yourself in the business world—and keep moving ahead throughout your career.
Who Should Attend:
This course is best suited for individuals or small groups from the same organization interested in learning how to use communication skills as a leadership tool for improving their teams' performance.
Ideal attendee roles include (but are not limited to) Leaders, Managers, and Service professionals who are responsible for managing and leading teams.
How You Will Benefit
The participants will learn how to:
Express their expectations as a leader
Connect with their team for influence and guidance
Increase their influence in any situation
Shift their focus from inward to outward for effective message delivery
Balance verbal and non-verbal communication
Establish strong professional relationships
Effectively provide feedback
Win credibility with peers and their teams
Take charge of their emotions
Improve work relationships and reduce misunderstandings
Choose the right words even in difficult circumstances
What You Will Learn: 5 Sessions
1. Connecting Increases Your Influence in Every Situation
Your level of influence on others always determines how much you can accomplish with and through them
2. Connecting is All About Others
You will learn how to focus on others while communicating with them.
3. Connecting Goes Beyond Words
Learn the power of your voice and body language for maximum connection.
4. Connecting Always Requires Energy
Learn how to invest just enough energy into your communication with others. The payoff is high and the personal fulfillment is priceless
5. Connecting is More Skill than Natural Talent.
Get to understand that even if you are not currently a good communicator, you can learn how to communicate and connect within a very short time
What to Expect:
A virtual workshop comprised of a 3-hour, highly-interactive Virtual Experience, including breakout room group work sessions, report-outs, and a dedicated break time.
During the breakout sessions, the camera feature is encouraged, but not required.
Attendee participation and collaboration will foster the most impactful learning journey, so interested attendees should be prepared to engage and interact for this workshop.