CommsDay Melbourne Congress 2016

Tuesday, 4 October 2016 at 9:00 am

-

Wednesday, 5 October 2016 at 5:30 pm (AEDT)
Event Details
2017 is set to be a major year of change in telecommunications. Spectrum and USO reforms are on the way, and the ACCC is reviewing the entire market structure. The NBN is set to reach half the population, but also faces a brave new world as it turns to debt markets for the first time. Operators are busy ramping up their 4G deployments, with an eye on what opportunities and challenges will be presented by 5G. And coming very soon, if not already, is the Internet of Things. CommsDay Melbourne Congress is your place to meet with the decision makers and players in these exciting times.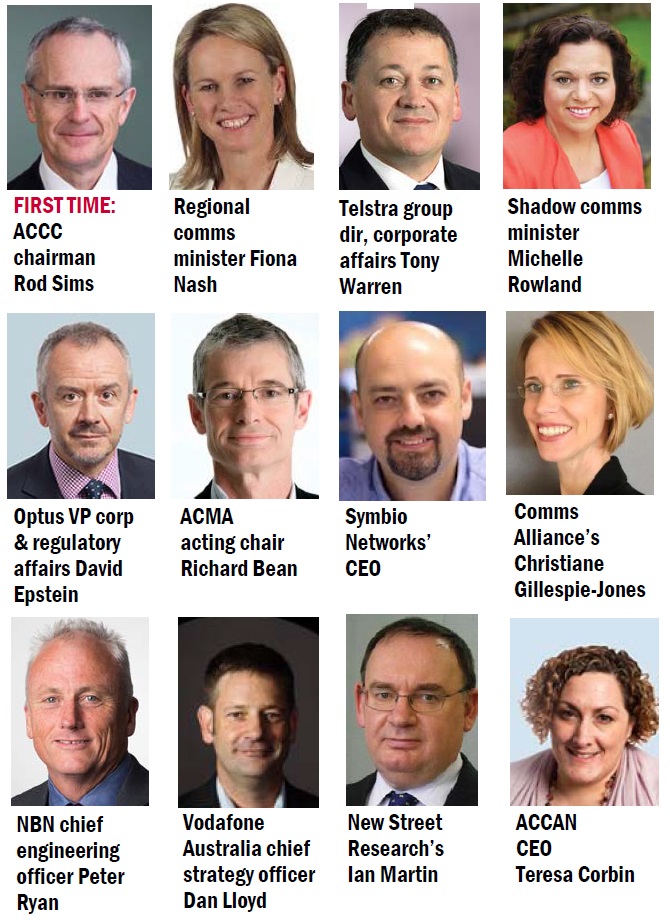 Agenda
Day 1, Tuesday 4 October
9.00      Australian Competition and Consumer Commission chairman Rod Sims
9.25      Symbio Networks CEO Rene Sugo
9.50      Telstra group director for corporate affairs Tony Warren
10.15     Cisco head of architecture SP Cloud and Software Rada Stanic 
10.40     Refreshment break
11.00     TBA
11.25    Macquarie Telecom national executive for industry and policy / OzHub chair Matt Healy
11.50    Equinix director, market development Asia-Pacific Gareth Bridges:  Realising Revenue Growth with an Interconnection-First Strategy
12.15    New Street Research senior telecommunications analyst Ian Martin
12.40    Nokia head of mobile networks Oceania Mark Barnett
1.05      Lunch
NEXT GENERATION TELECOMS STREAM
2.00    Ciena speaker TBC
2.20    Telstra GM Global Enterprise products Guy Lupo: Telstra's vision for the future of software defined networks and network functions virtualisation
2.40     Ericsson head of portfolio management, PA Cloud Systems Jonathon H. King: Digital industrialisation and powering the network economy 
3.00      Eintellego CEO Skeeve Stevens
3.15      Mellanox ANZ country manager Sudarshan Ramachandra:100GE and beyond 
3.30      Break
4:00 PANEL: HOW TELCOS CAN ENABLE THE INTERNET OF THINGS
Telcos are an essential part of the IoT foodchain in terms of connectivity. But is existing fixed and mobile infrastructure fit for purpose, or are new topologies combining current tech with dedicated platforms such as SigFox, LoRA and others necessary for IoT success? Does IoT offer sufficient economic incentive to encourage telco investment? How can telcos work with device, application and other providers to ensure IoT success? What legal and regulatory hurdles stand in the way? Panelists include Nokia Oceania CTO Warren Lemmens.

5.00     Day 1 closing keynote: How to save the NBN with iMediate Consulting's Robert James
5.30      Drinks
6.00     Close
Wednesday 5 October
 9.00    Federal minister for regional communications Fiona Nash
 9.25     Shadow communications minister Michelle Rowland
 9.50     Optus vice president for corporate and regulatory affairs David Epstein
 10.15    NBN chief engineering officer Peter Ryan
 10.40    Refreshment break
 11.10    Australian Communications and Media Authority acting chairman Richard Bean
 11.35    Vodafone Australia chief strategy officer Dan Lloyd
 12.00    Ruckus Wireless speaker TBA
 12.25    Cyient senior vice president - Communications and APAC president Sanjay Krishnaa
 12.50    Lunch
REGULATORY AND POLICY STREAM

 2.00      Australian Communications Consumer Action Network CEO Teresa Corbin
 2.20      Coutts Communications managing director Professor Reg Coutts on USO reform
 2.40      Comms Alliance director of program management Christiane Gillespie-Jones 
 3.00      Break
 3.20      PANEL: GOING SUPERFAST AGAINST THE NBN
A number of telcos have decided to resist the 'natural monopoly' of the NBN and offer high speed broadband over their own infrastructure. This panel looks at the various business models that may succeed against the NBN as well as the regulatory settings that distort the playing field. What will the ACCC do to change the superfast regulatory regime, if anything? And what can the NBN do to discoruage competitive bypass and attract back custom from the renegades? Panellists include Herbert Geer's Tony Dooley, Opticomm's Phil Smith and dgTek's David Klizhov.
 4.20      Close      

When & Where

The Langham Hotel
1 Southgate Ave
Southgate
Melbourne, VIC 3006
Australia

Tuesday, 4 October 2016 at 9:00 am

-

Wednesday, 5 October 2016 at 5:30 pm (AEDT)
Add to my calendar
Organiser
CommsDay Events
CommsDay events are where Australia's telecoms leaders meet. From our flagship CommsDay Summit in Sydney and Congress in Melbourne, to our specialised industry conferences focusing on wireless, datacentres, wholesale and more, each of our events provides access to exceptional speakers and delegates, unparalleled networking, and unrivalled brand exposure for our sponsors.
CommsDay Melbourne Congress 2016