Description
Come join us for this historical event in Phoenix, AZ — February 17-19, 2019 where speakers from around the world will share the current fulfillment of Prophecy from Ezekiel 37 about the dry bones of the descendants of Israel arising in the last days and the importance of reconciling the House of Judah and House of Israel in our day in preparation of the coming of Messiah!
The two day conference will be held Sunday and Monday, February 17-18 at the Holiday Inn Phoenix West Hotel with an additional prayer and healing day on the 19th to follow for those who are interested in praying for Israel in all the lands of their dispersion and seeking God's healing for the whole house of Israel so that we can become one again!

Featured Speakers Include:
- Isaac Heckman - Jewish Torah Teacher and International Speaker Helping Ephraim and the lost House of Israel return to Torah before returning to Judah
- Stephen Spykerman - Author of "Christian and Jews" and "Who are you America" from Wales
- Margot Crossing - Researcher from Australia working with the descendants of Manasseh in Northern India
- Gaddi Eliyahu - Founder of Bet Yisrael in India
- Chief Joseph Riverwind - Native American Author and Educator about how the Native Americans Are Related To The Ten Lost Tribes
- Joe Livingston - Speaker from Scotland promoting Healing and reconcilation for the Two Houses of Israel
- Gene Porter - Two-House Radio Talk Show Host bringing people of both Houses together Worldwide
- Mark Byrd - President of Torah One New Man Ministries
Come be a Part of this Unprescdented Conference and learn from distinguished Scholars who are working with the Lost House of Israel around the world and hear about what God is doing in Our Time to bring about the fulfillment of His 2700 year old Prophecy in Ezekiel 37:15-23!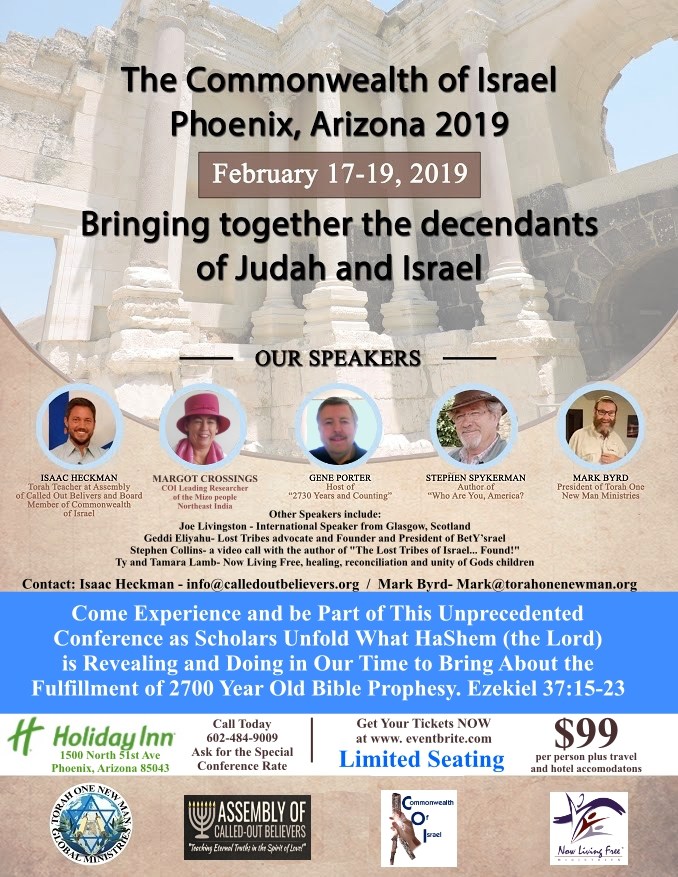 Coffee and pastries will be provided in the morning sessions for your enjoyment!
Lodging: the Holiday Inn Phoenix-West Hotel is located at 1500 N 51st Ave, Phoenix, AZ 85043 and has great accommodations if you desire to stay in the same building as the conference! You can visit their website by clicking here or by calling (602) 484-9009
Flights: Phoenix Airport (PHX), also known as Sky Harbor Airport or simply PHX Airport, is the main international airport serving the city of Phoenix, Arizona, United States.