Location
Tent next to District Hall and Seaport Common
85 Northern Avenue
Boston, MA 02210
The CommonWealth Kitchen Food Show presents some of Boston's most creative, eclectic, and adventurous food entrepreneurs.
About this event
*NOTE: This event is a private trade show for food industry professionals. At 4pm we are opening the doors to the public for a fun evening of food and drink -- tickets to the public event can be found here!
Looking to discover the next culinary craze, hidden gem, or emerging food trend? The CommonWealth Kitchen Food Show has you covered!
Featuring nearly 100 of Greater Boston's most innovative, exciting, and diverse food entrepreneurs, our food show fuses local talent and global influences with raw passion, ensuring you'll find just the right thing to entice and delight customers, clients, and patrons.
Whether you're searching for delectable baked goods, tangy sauces, and condiments to elevate and differentiate your dishes, unique food trucks and caterers for your next event or simply looking to be inspired and excited by awesome entrepreneurs and their delicious food products, our food show won't disappoint.
On top of all that deliciousness, you'll be supporting CommonWealth Kitchen's mission to create a more equitable, sustainable, and inclusive food economy.
75% of the companies participating are BIPOC-owned and 80% are women-owned. These are companies and products you will feel inspired to support, and after all of the challenges of the past two years, don't we all need some inspiration (paired with delicious local fare)?!
--> See the businesses that will be exhibiting at the show.
This event is perfect for:  
Grocery and Specialty Stores
Distributors
Anchor institutions like colleges and hospitals
Food Service Operators 
Corporations
Caterers
Event Planners
Office Managers
Procurement Managers
Two events in one high-energy day! 
Private Industry Show | 11am-4pm : An industry-only show for buyers, distributors, event planners, and more looking for the latest in food and beverages. Plus a private networking happy hour with complimentary small-batch beer from local Black-owned breweries and small bites from Boston's favorite food trucks.
Public Food Festival | 4pm-7pm  : A fun evening to shop, eat, drink, and celebrate Boston's diverse culinary talent. Open to the public. Tickets available here.
We'll be under a big beautiful tent in Boston's Seaport District, so rain or shine, this is the place to be!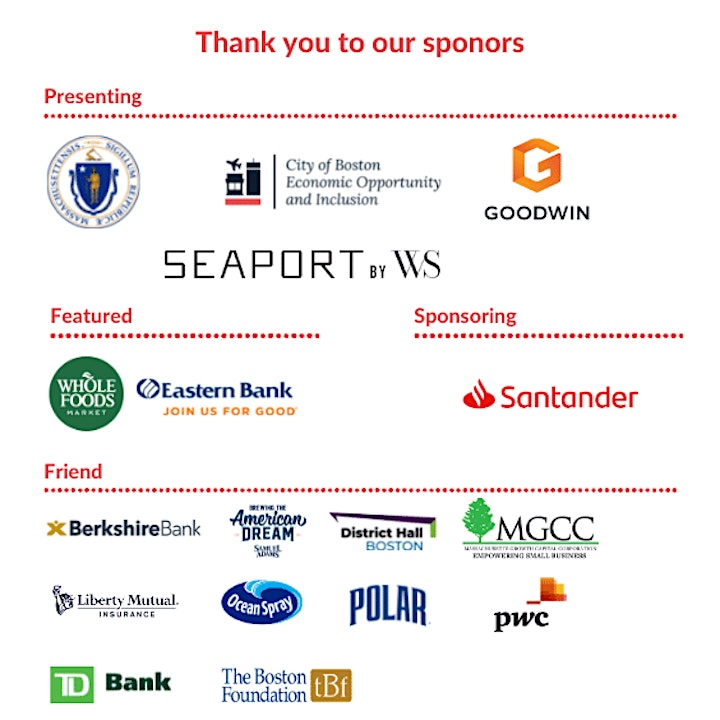 Thank you to our amazing community partners
Lawyers for Civil Rights, Black Economic Council of Massachusetts, Amplify Latinx, and the Massachusetts LGBT Chamber of Commerce
About CommonWealth Kitchen
At CommonWealth Kitchen, we believe in the power of inclusive entrepreneurship to change the world.
As Greater Boston's only nonprofit food business incubator we provide a launching pad for diverse entrepreneurs to start and build successful food companies.
The business leaders that make up our network—predominantly BIPOC and women-owned enterprises—bring the passion, talent, and love for their craft. We provide some of the supports they have not traditionally had access to, like our shared kitchen and manufacturing space, specialized equipment, best practices, and valuable connections. We are coaches, mentors, and advocates for those who have traditionally been excluded from our food economy.
Since 2009, we've helped to launch more than 150 diverse food businesses, creating over 500 new permanent jobs, and generating over $65 million annually in combined gross revenue.
In addition to our commercial kitchen rental and business assistance, we also offer small-batch manufacturing, which provides outsourced production to emerging member companies to help them scale, as well as farms, restaurants, and other food businesses.
CommonWealth Kitchen has received numerous awards and accolades for its work, including being named Boston Magazine's 2021 Best Community Catalyst.