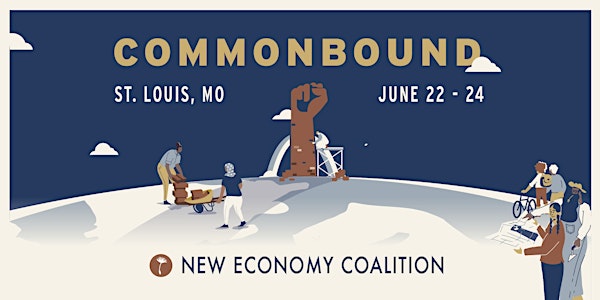 CommonBound 2018: Owning Our Power
When and where
Location
Harris-Stowe State University 3026 Laclede Ave St. Louis, MO 63103
Refund Policy
Refunds up to 30 days before event
Description
Please read through the full description before purchasing tickets. Important instructions and deadlines are explained below.
CommonBound 2018

CommonBound will bring together people with powerful visions for the future: a cross-section of community leaders, thinkers, and practitioners from around the world, including the New Economy Coalition's 200-plus member organizations from throughout the US and Canada. Participants will share strategies and stories, build relationships, highlight achievements, and chart a shared path toward a society that puts people and planet first.
Learn more at www.commonbound.org
Full conference schedule is coming soon!
Email questions about registration to commonbound@neweconomy.net.
---

Deadlines for Sales by Ticket Type

Refunds of any kind: May 21, 2018
Annual Member Meeting: May 24, 2018
Housing: June 12, 2018
Network Gatherings: June 16, 2018
Side Events: June 16, 2018
Main Conference: June 21, 2018

---
Sliding Scale Registration
Because we want to make CommonBound as accessible as possible, registration is on a sliding scale from $180 - $550. This means we are asking you to make an honest evaluation of what is within your means for attending the conference this year. The true per-person cost of the conference is $275, so we encourage you to pay at or above that level if it is within your means. This cost is what it takes for us to provide conference space, programming, childcare, translation/interpretation, transportation, and food.

Support the work of CommonBound and the New Economy Coalition by being as generous as possible in your registration amount. Any increment of $275 allows us to offer another full scholarship to another attendee who needs it. You can also donate beyond $550, the sky's the limit!
Choose the amount that makes the most sense for your ability and needs. Please read the descriptions of the other registration levels as a guide. If this range is still outside your means we invite you to apply for financial support.

Please note that tickets for Network Gatherings, Site Visits, and Housing are considered "add ons" and may not be purchased without a conference registration ticket.
Here are our registration levels:
If you are a person with wealth or your organization is sending you and has a budget of over $1 million please register at or around this level. This covers the true per-person cost of organizing CommonBound to provide food, housing, childcare, interpretation, and transportation AND allows us to provide 1 full scholarship to another attendee.
If your organization is sending you and has a budget between $500 thousand and $1 million, or if you are a person of economic privilege, please register at or around this level. This covers the true per-person cost of organizing CommonBound to provide food, housing, childcare, interpretation, and transportation AND allows us to provide financial support to another attendee.
This is the true per-person cost of organizing CommonBound to provide food, housing, youth programming, interpretation, and transportation. If you or your organization can afford to register at or around this level please do.
This is the recommended rate for students, grassroots organizers, people from frontline communities, and low income/working class people.
*A service fee of about 5% will be applied to conference registration at the time of checkout.
All the above registrations include full conference access, five meals during the conference (Sat: breakfast, lunch, dinner; Sun: breakfast, lunch), interpretation/translation, childcare options, and access to housing options. Any amount paid for one individual beyond $275 will be considered a tax-deductible donation to New Economy Coalition.


---


Payment Options
We encourage attendees to pay online with a major credit card.
---

Refunds
The deadline for refunds of any kind is May 21, 2018. After that, we will not be able to issue refunds.


---

Network Gathering Registration


Network Gatherings are day-long gatherings that will be held on the first day (Friday, June 22nd) of CommonBound. They are proposed and organized by volunteers who want to bring a group of 20-60 people together to increase the capacity of our movements. They can be organized as open or closed meetings.

If you would like to receive an invitation to a closed Network Gathering, please contact the Network Gathering Host who's contact information is listed on www.commonbound.org.

If you are invited to a closed Network Gathering, you must obtain a promotional code from your Network Gathering host and enter it on the ticket page to find your Network Gathering ticket.

Network Gatherings are NOT included in standard conference registration. If you plan to attend a Network Gathering, please purchase a separate ticket and specify which one you plan to attend at check out. All Network Gatherings are a flat rate of $50, regardless of whether they are a half of full day. A light breakfast and full lunch is included in all Network Gathering ticket purchases.

Network Gathering registration ends June 16, 2018.

For the full list and descriptions of Network Gatherings, please visit www.commonbound.org
---
Annual Member Meeting

For tickets to the Annual Member Meeting, please click here!
Our day-long Annual Member Meeting will be held on Thursday, June 21st from 9am to 5pm. This meeting is only open to organizations that are currently members of New Economy Coalition. Each organization may send up to two representatives to this meeting. Registration is free. A light breakfast and lunch are included.
Tickets to the Annual Member Meeting are separate than tickets to CommonBound and access to the registration page requires a passcode. To obtain the passcode, contact Shavaun Evans, Membership Director at shavaun@neweconomy.net.

Ticket sales for the Annual Member Meeting have ended.



---

Site Visits
Site visits will occur Friday from 1-5pm and Saturday from 4-7pm. We will provide shuttle transportation for all site visits the depart and return to Harris-Stowe State University. Tickets are $20 and are limited. Sales end June 16th.


Pruitt-Igoe
"In the early 1950s, Pruitt-Igoe, a vast public housing project, arose on 57 acres on the near north side of St. Louis. Barely 20 years after construction, the 33 eleven-story buildings that made up the complex were razed, and the vacant land that was once home to thousands of people was gradually reclaimed by a dense, neglected urban forest. What happened in-between is a story that tempts but also defies simple narratives. It is a story of interweaving and competing accounts, both then and now." - from Images of America: Pruitt-Igoe

This tour will be led by St. Louis native, Bob Hansman, associate professor and a faculty fellow of the Gephardt Institute for Civic and Community Engagement at Washington University in St. Louis. In the early 1990s, he founded—and still directs, with his son Jovan—City Faces and the Jermaine Lamond Roberts Memorial Studio, in the Clinton-Peabody public housing project. Locally, he has received a Rosa Parks Award and a Dred Scott Freedom Award for his work.

For background on this tour, please watch the trailer for the documentary, The Pruitt-Igoe Myth. http://www.pruitt-igoe.com/

50% of ticket sales for this site visit will support City Faces and the Jermaine Lamond Roberts Memorial Studio.


The Ville
The United States is sprinkled with African-American communities that have endured segregation and discriminatory practices to become historical monuments of African-American culture. While we are familiar with popular names such as Harlem and Black Wallstreet, a lot of these communities still go unknown. St. Louis is home to one of those great cultural relics, the Ville. During the past century, the Ville stood as the cultural and academic epicenter of black St. Louis serving as home to internationally recognized institutions, educators, business and artists. Though the disparage of discriminatory practices have weighed heavily on the sustenance of the neighborhood, its greatest landmarks still remain reminding us of the legacy of the Ville. Join 4theVille as they take you on a tour of the Heat of the Ville, visiting landmarks and narrating the rich history of the community. The 4theVille tour combines historical narrative with testimony from residents that have lived through the rise and fall of the neighborhood.

Tours are provided on foot and last roughly 60 minutes long. Tour attendees will also receive Ville heritage guides that will allow them to revisit and explore the neighborhood's relics in their own time.

This tour will be led by 4 the Ville, a partnership between Northside Community Housing and multi-generational Ville residents to celebrate and share the rich history of the Ville, a historic African American community in the heart of St. Louis, Missouri.

Tour followed by talkback.
50% of ticket sales for this site visit will directly support 4 the Ville.


Black Girl Heal
The Black Girl Heal experience is a sacred space filled with dance, poetry and healing circles. Black Girl Heal will include a wide variety of mediators, activities, and tools to assist you on your journey to mastering self and obtaining balance.
What to expect :
small groups / breakout sessions lead by women psychologists, healers, and counselors
handouts / workbooks to aid in the journaling process

community of sisterhood

testimonials, storytelling

proactive tools demonstrating how to obtain healing

teas, herbs, and spices
Our goal is that you would leave refreshed and equipped with practical and effective methods to continue healing.

Please note: You must identify as a black woman to register for this site visit.

50% of ticket sales for this site visit will directly support Black Girl Heal.
The Griot Museum of Black History
The Griot uses life-size wax figures, other art, artifacts, and memorabilia to interpret the stories of African Americans with a regional connection who have contributed to our country's development. Visitors can "meet" and learn about Carter G. Woodson, Josephine Baker, Dred and Harriet Scott, Elizabeth Keckley, William Wells Brown, James Milton Turner, Clark Terry, Dr. Martin Luther King Jr., the Rev. Earl. E. Nance Sr., Miles Davis, Madame C.J. Walker, York, Percy Green, Macler Shepard, Chief Sherman George, and others.
The Griot's interpretative program includes an authentic slave cabin, originally built on the Wright–Smith Plantation in Jonesburg, Missouri. Visitors can solve puzzles, view documentary videos, and "board" a scale model section of a ship that replicates those used to transport Africans to America during the Transatlantic Slave Trade.
50% of ticket sales for this site visit will directly support The Griot Museum.


The North St. Louis County Work Day
The St. Louis Metropolitan Area includes St. Louis City and County. Locally, St. Louis County is divided by directions, known as South County, West County, and North County. Although St. Louis County is the second highest income-producing region in Missouri, economic disparity still exists within North County, which includes the Ferguson municipality. This tour will include a firsthand look at suburban decay and sprawl within North County and the many ways the local community is working on regional improvement and economic development.
This tour will be led by A Red Circle, an organization working to achieve racial equity, increase healthy food access, and promote economic activity within the north St. Louis County communities.
The tour also includes a short workday at United People Market, a locally-based not-for-profit, healthy food market located in Dellwood, Missouri, which is an economically stressed municipality in north St. Louis County. The market sells organic, produce, good for you meats, and locally sourced sauces and other food items at a fraction of the cost of traditional healthy food stores.
The cost of the tour will cover transportation, light refreshments, and service project materials.
---

Housing
Dorms at Harris-Stowe State University
Dormitory housing is provided on campus and costs $50 per bed per night and may be purchased with registration. Each bedroom has one or two beds and is joined en-suite with two to four other bedrooms with shared bathrooms and living spaces. All rooms are air-conditioned and include linens.

When ordering housing, please select the tickets that match the dates you wish to purchase roommate preferences, and needs at checkout.

We cannot guarantee single occupancy rooms to any attendee.

Spots are limited and sales end June 11th, so please reserve your spot early.
Hotels
New Economy Coalition is holding two hotel block reservations with special rates for attendees available through May 30, 2018.


Pear Tree Inn Union Station (0.7 miles from Harris-Stowe)
2211 Market Street, St. Louis, MO 63103
Nightly Rate: $109 per room
Block name: CommonBound
For reservations, call (314) 241-3200
*This will also be the site of NEC's Annual Member Gathering

Marriott Courtyard St. Louis Downtown West (0.6 miles from Harris-Stowe)
2340 Market Street, St. Louis, MO 63103
Nightly rate: $119/single occupancy, $139/double occupancy
Block name: CommonBound 2018
For reservations, call (866) 661-8954 or reserve online here.


Solidarity Housing
We are working with local St. Louis hosts to match conference attendees with people who have spare beds, couches, and floor space to offer. We will match you with a local host who you can coordinate your visit with. If you would like to be matched with a host, click here. Please note that solidarity housing assignments are limited and not guaranteed.


---


Yeyo's Arts Corner

For parents and guardians brining kids to CommonBound, Yeyo Arts Collective will host arts programming for 3-12 year olds during workshop blocks and network gatherings. Based in St. Louis, Yeyo Arts Collective is dedicated to the creative empowerment of women and families. For more information, visit them online at yeyoarts.blogspot.com.

Parents/Guardians may not leave campus while their child is at Yeyo's Arts Corner and must be accessible by phone at all times. Yeyo's Arts Corner will be closed during meals and plenaries. We ask parents and guardians to pick up their children at these times. Parents/Guardians must bring a water bottle and nut-free snacks for their child(ren). 3 year old must be potty trained. Please sign up for Yeyo's Arts Corner in checkout. A coordinator will follow up with you over email. Please note that spaces are limited and not guaranteed.
---
For more information about CommonBound 2018, please visit www.commonbound.org or contact us at commonbound@neweconomy.net for specific questions about registration.