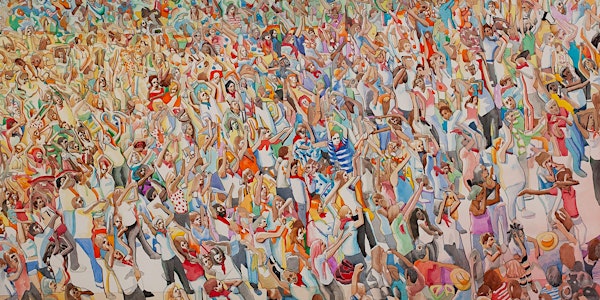 Common Ground — Manifest Exhibiting Artists Panel Talk
A Zoom-based panel talk featuring artists showing in Manifest's first exhibits of season 18, including the PAINTED biennial.
About this event
[[ ** NOTE: There will be a 30 minute waiting room from 5:30-6pm to allow for the artists to sign in and assemble before the 'doors' open to the public. Public, non-exhibitor entry begins at roughly 6pm. ]]
This is pandemic-inspired format for artist talks at Manifest provides the public a chance to meet more exhibitors from the very wide radius that Manifest's shows draw from. It also offers the artists from afar a chance to meet each other, our staff, and others in engaged conversation.
This talk wll feature the artists with work included in the opening set of exhibits of Manifest Gallery's 18th season. It has been thanks to the heroic commitment of exhibiting artists that we've been able to continue our work as the neighborhood gallery for the world through the pandemic. However, what has been lost is the vital energy of people gathering at our opening receptions, and artists traveling to Cincinnati from near and far to make connections and meet each other in their shared exhibits at Manifest. We are offering this ongoing series of online panel talks to provide a chance for the artists and the public to share this common ground once again.
Tickets for this talk are FREE. In order to help Manifest's staff manage the online event, which will be our 11th such offering, we ask that anyone planning to attend register for a ticket. Zoom connection details and access portal will be provided as part of the emailed ticket.
The exhibitions at Manifest will be FREE and open to the public during our regular hours Tues-Fri 12-7pm, and Sat. 12-5pm (closed Sun and Mon) September 25th through October 22nd. A ticketed sneak preview event will be held on Thursday September 23rd, 7-9pm (tickets available for any amount of donation). A non-ticketed public opening will also be offered on Friday, September 24th, 6-9pm.
The galleries will be featuring 58 works by 40 artists from 20 states. More details about the exhibits and artists lists are posted at www.manifestgallery.org/exhibits.
Those planning to attend this panel talk are encouraged to see the shows in person, or review the Manifest VR Tour of the entire set of exhibits that will be linked at the website below after the exhibit opens.
Exhibits include:
- PAINTED 2021 (5th biennial survey of works of painting)
- AQUACHROME (exploring watercolor and related media)
- Raygun Gothic (a solo exhibit of paintings by Texas-based artist Jason Bly)
image: Byron Anway (AQUACHROME)