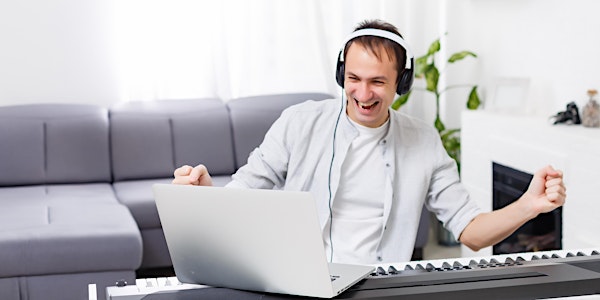 Common Chord Progressions In Popular Songs
Learn the most common chord progressions found in all styles of music, and master the building blocks that go into playing songs you love!
Date and time
Starts on Thursday, June 8 · 3pm PDT
Refund Policy
Contact the organizer to request a refund.
Eventbrite's fee is nonrefundable.
About this event
It's no secret that just about all the popular and contemporary music heard on the radio today uses the same harmonic structures and chords that musicians have been using for the last 400 years. Understanding simple chord progressions will get you playing tunes quickly and also introduce you to the concept of voice leading, an essential skill for learning harmony and eventually more advanced piano playing.
In this class, you will examine the relationships between tonic, sub-dominant, and dominant chord families and how they propel forward motion in a song. Covering multiple examples in pop songs (see below) every class, each basic chord progression is examined in depth to cover fingerings, voice leading, and resolutions.
In one class, expect to play excerpts from a dozen songs!
Example Songs Covered:
I-V: London bridges
Ⅰ-Ⅴ: America
Ⅰ-Ⅴ: Let it be
Ⅰ-Ⅴ: New York, New York
I-IV: Imagine
I-IV: Tiny Dancer
I-IV: Jump
I-IV: Home
I-IV: Piano man
Ⅰ-Ⅳ, Ⅰ-Ⅴ: Santa Claus is coming to town
Ⅰ-Ⅳ, Ⅰ-Ⅴ: Brown Eyed Girl
Ⅰ-Ⅳ, Ⅰ-Ⅴ: When the saints go marching in
Ⅰ-Ⅳ, Ⅰ-Ⅴ: The Lion sleeps tonight
This class is perfect for: those 13+ years of age with an interest in learning the skills to play popular songs. Some experience playing piano at a beginner level is strongly advised. Any understanding of basic chords or a major scale is helpful but not required. This class is intended for beginner/intermediate piano students or vocalists interested in learning harmony and how to play chord progressions on the piano.
Topics covered include: Basic Terminology (Note Names, Rhythmic Values), Scale Positions, Chord Names, Roman Numerals, Chord Inversions, Voice Leading, Harmonizing, Rhythmic Interpretation, Timing, Application in Songs.
After taking this class: The student will be familiar with basic chords and their relationship to each other, tonic and dominant chords, chord inversions, how to play the Ⅰ-Ⅳ and Ⅰ-Ⅴ progressions, and how to use these progressions in various popular songs. These progressions will also give you the foundation for playing other chord progressions.
Skills required: (scale from 1-low to 5-high)
Basic Terminology = 2
Recognizing Notes = 2
Playing Basic Triads = 1
Major Scale = 1
About the organizer
Our live, online group classes are a great way for the casual learner to have fun and learn new skills, or the serious musician to expand their learning and repertoire. We explore fun subject matter, exciting themes and topics, and entertain along the way. We'll cover contemporary hits and old favorites, and inspire the creative musician within us all.
In addition to ticket purchases, consider adding on the summary video for practice, and a package of "Study Sessions" with a private teacher for quick help throughout the week. Open your mind and your ears and get ready to have a ball!