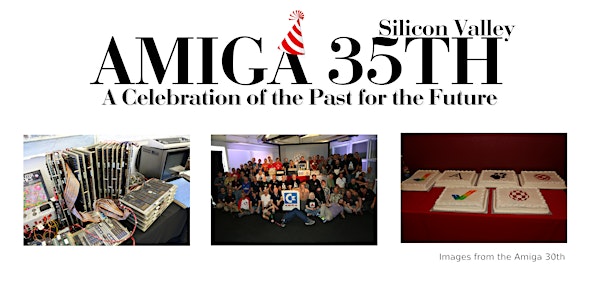 Commodore Amiga 35th Anniversary USA
When and where
Location
Biltmore Hotel and Suites Santa Clara Hotel 2151 Laurelwood Road Santa Clara, CA 95054
Description
The Amiga 35th USA will be held on June 6th and 7th 2020 in the heart of Silicon Valley. It was just 5 years ago we held an epic event for the Amiga Computer and the time has come for the next chapter. The Amiga 35th will focus on bringing the Amiga Community together for 2 days to meet, share, discuss, and eat cake. The show floor will consist of "Before Commodore" Amiga artifacts (some of which have not been seen publicly for more than 30 years), displays of Commodore Amigas, and next-generation Amigas. We will have tables set up for community members to display and show their own Amigas. Several Amiga personalities including Dale Luck, RJ Mical, and Trevor Dickinson will be joining in the celebration and socializing with attendees. Additional Amiga personalities will be announced as the event draws closer.
The main event ticket will provide access to the show floor both Saturday and Sunday along with the birthday bash on Saturday night. The birthday bash includes Pizza, Ice cream, and of course Cake. We will also have a cash bar available to make it a truly epic birthday party.
While we understand there is a lot of concern and news hype surrounding the COVID-19 virus we are very hopeful the situation will be fully under control by June. However, since we have already made full pre-payment to secure the venue for Amiga 35 USA, all ticket purchases will be non-refundable in the unlikely event we are forced to cancel the show due to travel restrictions imposed by the COVID-19 virus.
Disclaimers:
As a participant in the Amiga 35th USA (The Event) you will not hold the Event, Event organizers, the Venue or Volunteers liable or responsible for damage, theft, injury or death.