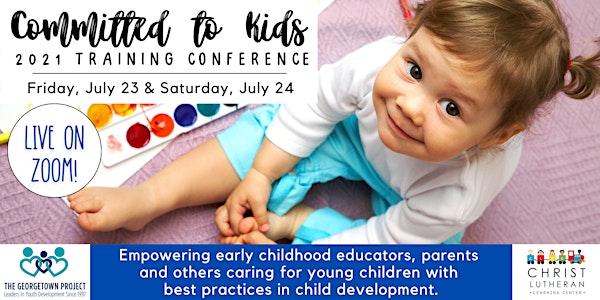 Committed to Kids Training Conference
Join us on Zoom for two days of live early childhood education training sessions! $20 per day. Register for one day or both!
Refund Policy
Contact the organizer to request a refund.
About this event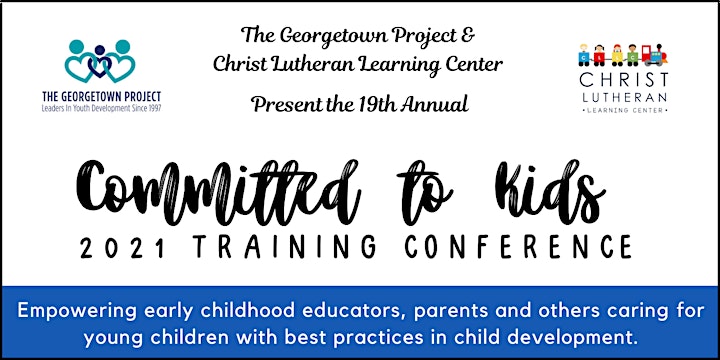 Join us on Zoom for two days of live training sessions! 
$20 per day. Register for one day or both!
Earn 12 hours of training over two day conference!
Engaging, live workshops held on Zoom!
Attend all 8 conference sessions and you'll be registered to win a Lakeshore Learning gift card!
Attend the Pre-Conference in person Painting Party to earn an additional 3 hours of training! (Additional cost; see info below.)
We can't wait to see you at Committed to Kids for two full days of learning and fun!
See the FAQs at the bottom of the page for more information.

8:45-9:00am - Opening Announcements
9:00am–10:20am  -  Keynote - Using Music to Enhance Mathematical Learning: Make it Fun!
Trainer: Myriam Aguila, Ph.D.
This interactive session offers participants an opportunity to identify, analyze, exchange, and experience varied musical strategies that can help young children understand and learn different mathematical concepts. It will include theoretical information and developmentally appropriate practices that can be applied in the classroom right away with easily obtained resources.
10:30am–11:50pm  - Mindset Matters: How Growth Mindset Changes a Child's Approach to Learning and Life
Trainer: Lara Pauley, M.Ed., Texas Registered Trainer #1187
Grasping the concept of mindset and its importance gives teachers and administrators a powerful tool to instill a growth mindset in the children they encounter. This session focuses on understanding the difference between a fixed and growth mindset as well as the implications on learning and life for each mindset.
1:00pm–2:20pm  -  Nurture them in Nature through OLE! Texas
Trainer: Tanya Zastrow, M.S., Director of Programs, Lady Bird Johnson Wildflower Center at The University of Texas at Austin
Open the doors and head outside! Children benefit from being in nature with increased engagement and enthusiasm, improved behavior, enhanced attention, increase in physical activity, improved relationship skills, reduced aggression, and reduced risk of obesity. Outdoor Learning Environments! Texas is a statewide research based initiate working to improve the lives of early childhood through the design of outdoor spaces at childcare centers. In this session learn how to incorporate principles from OLE! Texas into your outdoor space at your childcare center.
2:30pm–3:50pm - Understanding the Impact of Caregiver Stress on Child Development
Trainer: Nancy Johnson, M.A.Ed.
Stress does crazy things to us, our health and our behaviors. In fact, you may not even realize the impact of stress on yourself and on the children in your care. Let's be real, stay in check and focus on what matters.

8:45-9:00am - Opening Announcements
9:00am–10:20am  -  Tools To Build Family Connections
Trainer: Laura Minnigerode, M.Ed., Texas Registered Trainer #9014
"Children benefit when all the adults who care about them work together."
– Urie Bronfenbenner
What tools do we have available to us to make this possible? It's not the easiest task. In this session, we'll talk about some tools and approaches to create an opening for collaboration with families, including research-based tools such as ASQ-3 and PICCOLO. We'll talk about when and how to implement these approaches. We'll also learn a reflective listening tool that can help us to facilitate communication with the families we serve.
10:30am–11:50pm  -  Supporting and Enhancing Children's Learning
Trainer: Melissa Ply, M.Ed., Texas Registered Trainer #649
Scaffolding is providing assistance that enables a child to successfully complete a task that is too difficult for them to do on their own. In this session, we will discuss how to give assistance with specific strategies to use with preschool-aged children.
1:00pm–2:20pm  -  Creating Strategies for Kindness and Respect in the Early Childhood Classroom
Trainer: Gail Cox, Ph.D.
Should we refer to our class as "friends"? In this session, we will discuss the concept that "We are all friends here at school." We will focus on changing the conversation with children about friendship and kindness behaviors. Foundational article: Delvecchio, B. (2021). We're Not All Friends Here (and That's OK). Young Children, NAEYC
2:30pm–3:50 pm  -   Supporting Anti-Bias Education in Early Childhood Through Picture Books
Trainer: Meghan Gowin, M.Ed.
Research has shown that children as young as 3 and 4 years old have deep and meaningful understandings of inequities based on identity markers such as race, ethnicity, gender, class, and able-ness. These understandings are primarily influenced by the adults in their lives, including caregivers and teachers. In this session, participants will learn how to have brave conversations about anti-bias and anti-racist issues with young children through the use of picture books.
Learn more information about these fantastic speakers here!

Earn an additional 3 hours of training by attending the Pre-Conference Painting Party on Thursday, July 22nd from 6:00-9:00pm!
Led by Paint with Me, Kimberly Keller and held in-person at Christ Lutheran Church in Georgetown, Texas! Additional fee, not included in conference registration fee.
Follow this link for more information or to register for the Painting Party.

Contact info:
Email registration@georgetownproject.com or call 512-864-3008.
How do I register?
To register for the conference, click on the orange "Select A Date" button at the top right side of this page. Click on "Tickets" in the window that opens. Select Day One, Day Two, or both. Click "Checkout," then fill out the registration questions. Click "Place Order" at the bottom of the page, and you will be redirected to Paypal to submit your payment. Your registration isn't complete until your payment has been submitted. To register for the pre-conference in person Painting Party, follow the instructions found here.
Do I have to answer the registration questions?
The Georgetown Project is funded by grants and donations. The grants that allow us to provide low cost, high quality programming require us to report on the demographic information of our clients. We appreciate your help in gathering this information!
What if I have technical difficulties during the conference?
If you need help, call Lexy or Alondra at 512-864-3008 or email registration@georgetownproject.org.
What's the refund policy?
No refunds or registration transfers are allowed for this event.
 How will I get the Zoom link(s)?
You will receive the Zoom link along with information about using Zoom in your email a few days before the conference begins.
How will I get class handouts?
You will receive a link to Google Drive to access handouts.
How will I get my certificate of completed training hours?
Conference staff will verify your attendance at each session; you must attend 90% or more of the session in order to earn a certificate for that training session. Please contact us at 512-864-3008 or registration@georgetownproject.org if you have technical difficulties. Also, you must turn in a completed evaluation for each class in order to get credit for attending. You will receive an emailed certificate within a week of the conference.
Do I need to have a camera and a microphone?
Having a camera and microphone enhances the experience for the participant and the trainer, so we strongly encourage it. However, if you don't have the technology available, you can participate in the class discussions using the chat feature.