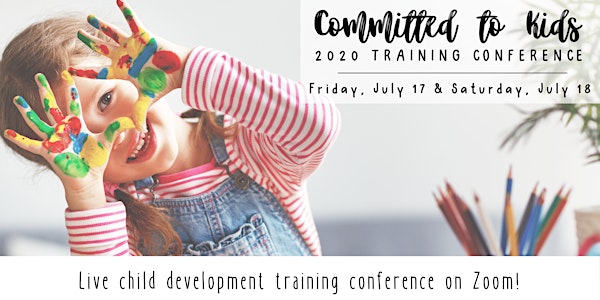 Committed to Kids Training Conference
Description


Join us on Zoom for two days of live training sessions!
$25 per day. Register for one day or both!


FREE for CCMS providers!

Earn 15.5 hours of training over two day conference!
Earn an additional 6 hours of training by attending evening painting parties! (additional cost, see below)
Engaging, live workshops!
Fun, games, prizes and more!
Attend all 10 conference sessions and receive a free gift!
We can't wait to see you at Committed to Kids for two full days of learning and fun!

See the FAQs at the bottom of the page for more information.
---
CONFERENCE AGENDA


DAY ONE: FRIDAY, JULY 17
9:00am–10:30am -- Helping Children Become Amazing: Developing Each Child's Full Potential! (Keynote)
Trainer: Laura Lamper, Ph.D.
Great teachers have the power to change lives forever. Child development expert and engaging speaker Dr. Laura Lamper will share some of her favorite stories and experiences to empower you to bring out the best in each child.


10:30am–12:00pm -- Conscious Change for Positive Guidance
Trainer: Pat Carter, Registered Trainer #1728
Examine the latest research to understand how the brain functions, especially under stress, and how old discipline paradigms can produce fear. You'll learn to make guidance changes to implement a Conscious Change.


12:00pm–1:00pm -- Break for Lunch


1:00pm–2:30pm -- Back to School Fun for Preschool
Trainer: Allison Gaskins, Registered Trainer #2912
The new school year is just around the corner! Learn new songs, games, center activities, and hear about great back to school books to welcome your preschool students to your classroom.Topics include: All About Me, Nifty Name Activities, and Building Self-esteem.

2:30pm–4:00pm -- Recognizing and Reporting Child Abuse and Neglect
Trainer: Tori Algiere, Outreach Coordinator, Williamson County Children's Advocacy Center
The ability to recognize the signs of abuse is critical to a child's safety. Child-serving professionals are often the only adults who routinely see a child and are most likely to identify warning signs. Learn how to identify victims of abuse and the best steps to take to report child abuse.

4:00pm–6:00pm -- Adverse Childhood Experiences and the Science of Resiliency
Trainer: Dorothy Light, Contract Manager, Bluebonnet Trails Community Services
Learn groundbreaking information on health, childhood development, and brain research! Gain understanding in the basics of neuroscience and epigenetics, and explore how our early childhood experiences can impact our adult mental and physical health. Learn about the long term affects of ACEs (child adverse experiences) and the significance of building resilience.
---
DAY TWO: SATURDAY, JULY 18
9:00am–10:30am -- Teacher Speak
Trainer: Jerri Thompson, M.Ed., Registered Trainer #1413
How a teacher speaks to children is vital to help them develop self-regulation and problem-solving skills. Developing new techniques will help you assess a child's development and provide enriching activities. Join us to learn and practice this new "teacher speak!"


10:30am–12:00pm -- Minimum Standards Overview
Trainer: Marlyn Kramer, M.Ed., Registered Trainer #3620
Whether you are new to childcare or consider yourself a veteran, we are all Texas state licensed. This means we all have to follow the state minimum standards. This training will cover all the primary rules you need to know and help you feel more confident as an early childcare professional.


12:00pm–1:00pm -- Break for Lunch


1:00pm–2:30pm -- Using Hands-on Bible Lessons in the Preschool Classroom
Trainer: Allison Gaskins, Registered Trainer #2912
Teaching Bible stories to preschool students can be a lot of fun! Come to this class to learn how to make Bible stories more exciting, create hands-on activities to reinforce your lesson, and to learn new Bible songs to sing with your students.


2:30pm–4:00pm -- Good Books for Better Programs
Trainer: Lara Pauley, M.Ed., Registered Trainer #1187
Learn to evaluate the quality of early childhood literature and find out how to incorporate books across the classroom, curriculum, and program. You will also gain ideas to use books to increase parents' involvement.


4:00pm–5:30 pm -- Practical Strategies for Handling Challenging Behavior
Trainer: Judith Clark, Registered Trainer #48341
All behavior is communication, but some behavior is more challenging to handle. Learn the reasons for and the effects of challenging behavior. You will gain practical short-term and long-term strategies and tools to implement, and you will get the opportunity to practice them during the session.
Learn more information about these fantastic speakers here. Just click on the Speaker tab!


---

Earn an addition 6 hours of training by attending our Evening Painting Parties!

Led by Paint with Me, Kimberly Keller!
Additional fee, not included in conference registration fee.

Follow this link for more information or to register for these workshops.


THURSDAY, JULY 16
6:00pm–9:00pm -- Ladybug Love Painting Workshop

FRIDAY, JULY 17
6:00pm–9:00pm -- Dreaming Painting Workshop


---
FAQs
How do I register?
To register for the conference, click on the orange "Select A Date" button at the top right side of this page. Click on "Tickets" in the window that opens. Select Day One, Day Two, or both. Click "Checkout," then fill out the registration questions. Click "Place Order" at the bottom of the page, and you will be redirected to Paypal to submit your payment. Your registration isn't complete until your payment has been submitted.

To register for the Evening Painting Parties, follow the instructions found here.

*If you qualify for a free ticket as a CCMS provider, follow the steps outlined above to select a date, then choose the free "CCMS Provider" ticket for each day you'd like to register for. When you fill out the registration questions, please be sure to include your daycare's name.
Do I have to answer the registration questions?
The Georgetown Project is funded by grants and donations. The grants that allow us to provide low cost, high quality programming require us to report on the demographic information of our clients. We appreciate your help in gathering this information!


How can I contact the organizer with any questions?
Email registration@georgetownproject.org or call 512-864-3008.


What if I have technical difficulties during the conference?
If you need help, call Lexy or Alondra at 512-864-3008 or email registration@georgetownproject.org.

What's the refund policy?
No refunds or registration transfers are allowed for this event.

How will I get the Zoom link(s)?
You will receive the Zoom link along with information about using Zoom in your email a few days before the conference begins.


How will I get class handouts?
You will receive a link to Google Drive to access handouts.


How will I get my certificate of completed training hours?
You will receive an emailed certificate within a week of the conference. You must turn in a completed evaluation for each class in order to get credit for attending.

Do I need to have a camera and a microphone?
Having a camera and microphone enhances the experience for the participant and the trainer, so we strongly encourage it. However, if you don't have the technology available, you can participate in the class discussions using the chat feature.