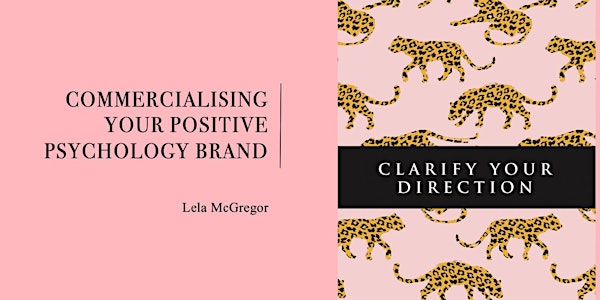 Commercialising your Positive Psychology Brand
This workshop will clarify your direction and give you confidence to take your brand and business live.
When and where
Location
100 Leicester St, Calrton VIC 3053 Room L915, Frank Tate Room, Level 9 100 Leicester Street Carlton, VIC 3053 Australia
Refund Policy
Contact the organizer to request a refund.
Eventbrite's fee is nonrefundable.
About this event
Three key takeaways for delegates who attend
It is becoming the norm for people to have a portfolio of careers, including several different jobs and even a side business. Whether you are building your career, transitioning into a new field or launching a business – defining and communicating your brand is everything. When your direction is clear – you will be able to sell yourself and your business!
In this 3-hour intensive workshop, you will learn key steps to clarify and kick start your personal brand. During this session you will do the following:
1) Clarify your authentic goals and your target market.
2) Translate your personal brand into a look and feel that authentically represents you.
3) Define your unique value proposition.
4) Test your brand and service. What do other people really think of you?
5) Learn the mind-set needed to pursue and make a success of your new direction.
Who would be the ideal audience
• Anyone wants to have a career change.
• Anyone who wants to start their own business or navigate a successful career change.
• Anyone who wants to build their personal brand in a new space.
FACILITATOR
Lela McGregor (MAPP, MMKtg, BBus, GAICD)
Splendour Labs
Lela uses her skills and experience as a positive psychology coach and a successful branding and marketing expert to breathe life into your personal goals and aspirations.
She brings over 25 years of extensive experience across Australia and Asia as a senior brand specialist, communications expert, designer and creative producer. Lela holds a Masters of Marketing and a Bachelor of Business. After attaining her MAPP (University of Melbourne), Lela went on to set up her boutique positive psychology practice specialising in coaching and business mentorship – Splendour Labs. For organisations, she is an executive coach and wellbeing strategist who drives positive culture through employee engagement and creating wellbeing programs. She has just finished working on two wellbeing programs, Positive Detective and Strength Switch, with Professor Lea Waters. Her sweet spot however, is coaching individuals to achieve their authentic personal brand. She absolutely thrives on transforming people's lives by helping them clarify their direction, building their personal authentic brand and taking it live.
She has worked with over 30 SMEs, corporates and international organisations. She has held senior director positions in Mercedes-Benz, Hyatt Hotels International and Healthscope Healthcare. With a vast background straddling the business, science and creative sectors, Lela has valuable first-hand experience of what drives people and their success.
Website
http://splendourlabs.com/