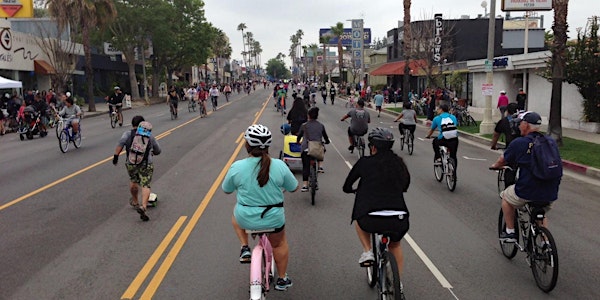 Commerce Moving Forward: Community Ride - In-Person Ride
Practice cycling etiquette and safe riding with a group of beginning cyclists.
By Metro Bicycle Education Safety Training (BEST) Program
When and where
Date and time
Saturday, April 23, 2022 · 10am - 12pm PDT
Location
Commerce City Hall 2535 Commerce Way Commerce, CA 90040
About this event
**REGISTRATIONS WILL BE CAPPED AT 50 PEOPLE TO ENSURE LIMITED IN-PERSON ATTENDANCE**
Do you want to be more comfortable and confident when cycling on city roads? Have you taken one of our virtual classes and want to practice what you learned in a real-world setting? The Commerce Moving Forward: Community Ride is presented by Metro, LA County Bicycle Coalition, and People for Mobility Justice, in partnership with the City of Commerce and Climate Resolve. This is an in-person class that will practice cycling etiquette and safe riding with a group of beginning cyclists. Participants will receive a FREE helmet and a set of bike lights! Raffle prizes will also be available.
Pre-registration and attendance confirmation is strongly recommended for all participants. Once you are registered, we will send you a waiver and location information to confirm your attendance. If you are attending with other family members, each person must be registered in order to attend. Also, anyone under 18 must be accompanied by an adult or legal guardian. Register now to guarantee your spot!
Thanks to a Sustainable Transportation Equity Project (STEP) statewide grant, the City of Commerce is launching the Commerce Moving Forward project. STEP is part of the California Climate Investments program, a statewide initiative that puts billions of Cap-and-Trade dollars to work reducing greenhouse gas emissions, strengthening the economy, and improving public health and the environment — particularly in disadvantaged communities. Commerce Moving Forward will introduce the first set of Class II bike lanes in the city, along with 400 shade trees, two zero-emission fixed route buses, and two zero-emission dial-a-ride shuttles. The Commerce Moving Forward project will also help prepare the community for Metro's future Commerce/Citadel rail station planned with the L Line (Gold) Eastside Extension Phase 2 Project through development of a Transit-Oriented Development and Displacement Avoidance Plan. As part of this engagement effort, we are excited to collaborate with community partners to offer fun and engaging bike safety education opportunities to Commerce residents and workers to ensure that all community members have access to dignified, frequent, affordable transportation that serves all of their basic needs.
EVENT INFO
Date: Saturday, April 23rd
Timeline: 10:00 AM - 12:00 PM
10:00am - Meet at City Hall Parking Lot/South End of Rosewood Park - Near Baseball Field
10:30am - Roll Out
12:00pm - Return to City Hall Parking Lot/South End of Rosewood Park - Near Baseball Field
Start /End Location: Commerce City Hall Parking Lot (2535 Commerce Way, Commerce, CA 90040), South End of Rosewood Park
Experience Level: All ride levels welcome
Route: The route will preview some local businesses and the neighborhood streets surrounding Rosewood Park. Join us for a nice 4 mile ride touring the neighborhood streets, and local businesses near Rosewood Park.
Getting There:
Public Transit: Commerce Bus Routes: 300, 400, 600 stop at Rosewood Park
Parking: Available in the Commerce City Hall Parking Lot. Parking is also available at the park, and there is additional street parking surrounding the park.
What to Bring:
A functional bicycle or wheeled device (highly recommended with gears)
Mask or face covering to wear at stops and when not able to social distance
Hand sanitizer
TAP card or money for fare if you plan to use the Metro bus or train (though Commerce bus lines are free of charge).
A helmet is required if under 18
Additional cash to purchase food at stops
Water Bottle (with water)
Bikes with training wheels are not permitted, but children are welcome to attend if pulled in a trailer or on-bike child seat
*** PLEASE NOTE: All ride participants must sign this waiver to participate. A parent or legal guardian is required to sign for and accompany any minors under 18 participating in the ride. ***
**RAIN POLICY: In the event of a rain forecast, we will contact you 24 hours in advance to confirm or cancel the ride**
Safety Protocols
We will be observing strict protocols during class to ensure safety and comfort for all participants and instructors. All instruction will be conducted outdoors to maximize physical distancing. Please keep in mind the following rules while attending class:
You must confirm your attendance in advance of class so we know to expect you and hold your spot. Every attendee must sign-in and complete a waiver.
If you are feeling sick or unwell, please stay home. There are many virtual class options still available.
Even if you are fully vaccinated, please wear a mask or face covering at all times while on site.
Staff and instructors reserve the right to refuse service to anyone who does not follow these protocols (e.g., arrives without prior registration, does not complete waiver, refuses to wear a mask).
Metro's Bicycle Education Safety Training (BEST) Program currently offers bike classes at 4 different levels—Bicycling 101 and 1, 2, 3. If you are interested in taking classes at the next level or joining a community bike ride, check out the full event calendar. For more info on how to ride a bike in LA County, visit metro.net/gobike.