Description
Commentaries: The Art and Text of American Culture
Featuring the work of Roland Ruocco, David Wilson, Gisela Pferdekamper, and Rolando Chang Barrero.
October 6 through October 27, 2018
The Box Gallery
811 Belvedere Road
West Palm Beach, FL 33405
www.TheBoxGallery.Info
David Willson
David Willson has been the freelance editorial cartoonist for the Palm Beach Daily News for 26 years and also does feature illustrations for the Palm Beach Daily News and Palm Beach Life magazine. Willson has also written a regular column entitled Cartoonistry for the newspaper since June, 2009.
Willson is a graduate of Forest Hill High School in West Palm Beach and attended East Carolina University. He has served as president of the Lake Worth Pioneers' Association and two terms as president of the Rotary Club of West Palm Beach.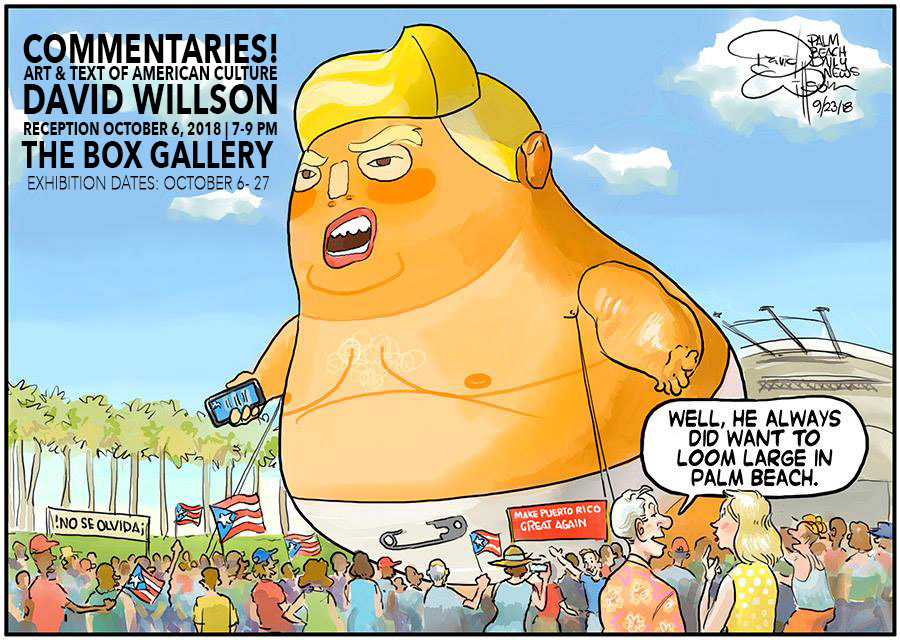 Rolando Rucco
Brooklyn, New York native Roland Ruocco attended The High School of Art and Design in New York City and Pratt Institute in Brooklyn, NY. Early on his artwork was influenced by comic book illustration and urban graffiti, then in college the old masters especially the Romantic painters. This unique convergence has resulted in a compelling body of work.

" My artworks convey my perception of the world around me, involving diverse topics, subject matter and artistic styles, sometimes identifying problems and offering solutions, other times focusing on the beauty of nature, or perhaps mechanical design. It depends on my mood and inspiration, I like the challenge of trying different artistic directions. My current work includes painting, drawing, sculpting and casting, LED driven structural constructions, video tracks, map-making, and digital design."

Since the mid-nineties as Roland has actively exhibited in Miami, Fort Lauderdale, Palm Beach County, and New York City, his list of collectors has steadily increased. His Florida based studio also serves as home for his New Light Foundation, Inc., a non profit charitable organization that conducts community outreach programs promoting the arts and education.
Gisela Pferdekamper
Gisela's art has been displayed at many exhibitions and galleries throughout the years. She exhibits her works in her own studio in concert with other artists each February. Funds raised from this exhibition are for the benefit of the RARE SPECIES CONSERVATORY FOUNDATION. This show is always well attended.
Rolando Chang Barrero

Born 1962, Coconut Grove, Florida Currently resides in West Palm Beach, Florida BFA, The School of the Art Institute of Chicago, 1990. EVERY ONCE IN A WHILE A PERSON MAKES A BIG impact. Five years ago, that person arrived in Palm Beach County and his activism, leadership and energy ripple through the arts community. After he opened his studio in Boynton Beach, Rolando Chang Barrero helped to initiate the Arts District there, and then, with fellow artist Craig McInnis, started Art Synergy, exhibiting local artists along with the Palm Beach and Boca Fine Art Shows. Next, he opened his eponymous gallery on Lucerne Avenue in Lake Worth and this June, launched his fourth art endeavor here: The Box Gallery with 4,000 square feet of exhibition space on Belvedere Road.--Katie Dietz " Cultural Creative" --Art Hive Magazine " Artistic Innovator" --The Florida Weekly "Top 10 Visual Artists in Palm Beach County" --New Times "Most Intriguing People of S. Florida Arts Scene" --South Florida Gay News "Green Trailblazer" --Sun Sentinel