Coming Together to Solve the Opioid Crisis - 5th Annual Utah Solutions Summ...
Description
To register your school for the Youth Summit, please click here.
FOR A LIMITED TIME: USE COUPON CODE 'TOGETHER' TO GET YOUR GENERAL ADMISSION TICKET FOR NO CHARGE.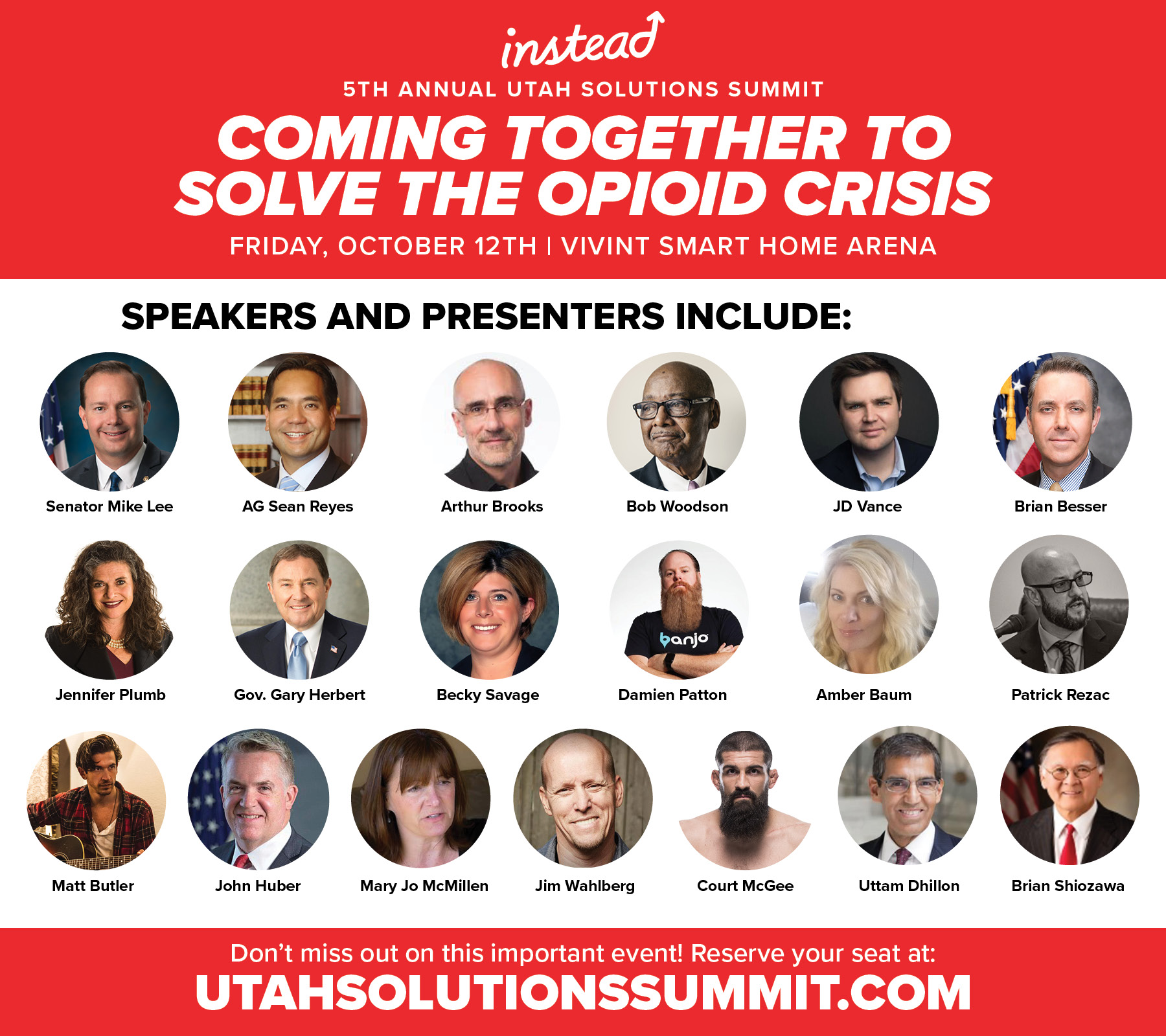 For the past 5 years, Senator Mike Lee has hosted an annual Solutions Summit, convening community leaders to address such topics as collaboration, workforce innovation, and other big ideas. Senator Mike Lee, Attorney General Sean Reyes, the DEA 360 Program, the Mark Wahlberg Youth Foundation, the Sutherland Institute, the Salt Lake Chamber, and others are partnering for the 2018 Utah Solutions Summit. The purpose of the 2018 Summit is to foster a greater sense of connection and collaboration among our local and national community to create better and more effective options at all levels so those impacted by the opioid crisis can choose connection instead of addiction.
The 2018 Utah Solutions Summit is branded Instead as an invitation and a rallying cry to everyone affected by the deadly scourge of opioid abuse to learn alternatives to turning to opioids for pain, loneliness, and depression, as well as to help show options and opportunities for addressing the crisis. Current treatments, policy, programs, and efforts are simply not enough. We must change how we talk about the underlying issues that lead to addiction and how we support those fighting it.
Every day in the United States, 115 people we love will die from opioid abuse. Our mothers, fathers, sons, an daughters. Our neighbors and our friends. Our employees and our employers. Opioid abuse is an equal opportunity killer. Abuse crosses race, gender, income bracket, sexual preference, or nationality.
Presenters include:
U.S. Senator Mike Lee
Attorney General Sean Reyes
Governor Gary Herbert
Arthur Brooks, President of the American Enterprise Institute
J.D. Vance, author of Hillbilly Elegy
DEA Agent Brian Besser
Becky Savage, 525 Foundation
Bob Woodson
Court McGee, MMA fighter and founder of The McGee Project
Matt Butler
Other exciting speakers to be announced soon!
Schedule
9:00-12:30 - Instead Youth Summit (schools can register here)
1:00-3:30 - General session
3:30-5:00 - Breakout sessions
Breakout Sessions
Faith/Community Group Panel -

Featuring representatives from faith groups and community organizations

Federal Panel -

Featuring members of Congress and senior administration representatives from Republican and Democratic administrations

State Panel -

Featuring speakers from different state legislatures and the State Policy Network (SPN)

Health Care Industry Panel -

Featuring specialists from the health care, addiction recovery, and insurance industries

Business Panel -

Featuring local and state business leaders

Law Enforcement Panel -

Featuring officials from local, state, and federal agencies

Tech Panel -

Featuring a tech-centric discussion with industry leaders and executives focused on tools available to prevent and rescue

Recover Community Panel -

Featuring individuals in active recovery, representatives from the addiction recovery community, and families affected by the crisis