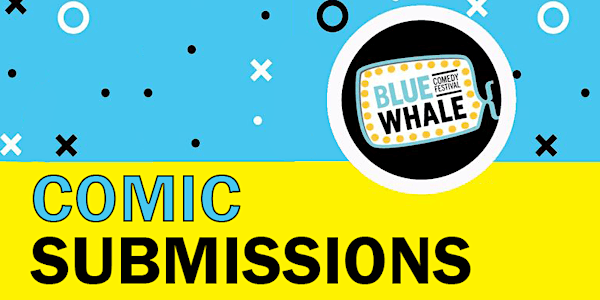 Comic Submission - Blue Whale Comedy Festival 2022
Blue Whale Comedy Festival
Event Information
Location
Blue Whale Comedy Festival
111 E Reconciliation Way
Guthrie Green
Tulsa, OK
Blue Whale Comedy's original mission was to put Tulsa on the national comedy map by showcasing local talent while bringing in National acts.
About this event
BE A PART OF BWCF! Submit your act for consideration!
Blue Whale Comedy's original mission was to put Tulsa on the national comedy map. By bringing comedy to Tulsa, Blue Whale has expanded on an already burgeoning performing arts scene and exposed local talent to some of the most gifted and successful acts in the country, helping them to hone their craft and be given the opportunity to take their own acts on the road.
Please note that the preferred format for the submission clip is an YouTube video. Vimeo also works.
Please ensure that the link is NOT password protected. We will not download any material such as via WeTransfer.
Please ensure that the audio and video is of adequate quality.
There are no content restrictions – send us a set that is indicative of your best work.
Please note that due to the volume of submissions we receive, you will only be contacted should we like to further enquire about your act.
Submissions will close July 1, successful applicants will be contacted after this date.
Thank you for your time and effort, we look forward to receiving your submission.
READ THE FAQs
Q. What are the performance dates of the 2022 Blue Whale Comedy Festival?
A.2022 Festival Performance Dates: Thursday, August 25 – Saturday, August 27, 2022. 3 Days of laughs!
Q. Where can I find an application to perform?
A. The 2022 submission form is available starting April 22,2022 right here, but please read through these frequently asked questions first!
Q. When are applications due?
A. Early Bird Submissions: May 4th-June 1, Open Standard Submissions: July 1-30, 2022. Late Submissions will be accepted July 8, 2022. No submissions will be accepted after this date.
Q. Does it cost anything to apply to the festival?
A. Yes, Early Bird is only $10 (through June1), standard application fee is $20. Late Submissions (After July 1) is $40. Major Credit Card accepted and required to process all applications on Eventbrite. This fee goes directly to covering costs to review submissions and does not cover any festival staff pay, or result in any profit. The submission fee is not refundable. Incomplete applications and those without payment cannot be processed.
Q. What kind of comedy does the festival accept?
A. All forms of Stand Up, Sketch Comedy, Long & Short Form Improv Teams, Musical Sketch or Video Sketches are accepted. Comedy from across the country as well as international submissions are accepted. Comics and comedy acts chosen to perform in the BWCF typically have several years of professional experience. If you think you have what it takes we encourage you to apply.
Q. How long is a performance slot in the festival?
Okie Homie Showcase: 4-5 minutes
Host: 5-7 minutes
Support Act: 5-7 Minutes
Feature Act: 10-15 minutes
Headlining Act: 35-45 minutes
Sketch & Improv: 20-30 minutes
Additional performing slots on special events also offered.
Q. How are performers judged for acceptance in the festival?
A. Submissions are reviewed by a panel of judges including the producers of the festival and select area comedy professionals. Applications are judged on quality, originality, professionalism, audience reaction and above all, funniness. We review each and every submission we receive equally! The #1 reason comics are rejected is poor quality video where we cannot see or hear you!! See our Video Tips below!
Q. When will I be notified of acceptance or rejection to the festival?
A. We will begin contacting applicants by July 1st.
Q. Is there compensation for performing in the festival?
A. There is no payment for performing in the Blue Whale Comedy Festival, but there are many perks including bookings on BWCF shows throughout the year, free food and beverages backstage, free admission to the official Kick Off Party, free admission to festival shows, discounted fest t-shits, and more. The Blue Whale Comedy Festival also strives to create an environment where comedians of all styles and abilities can interact and are treated with respect.
Q. What kind of video should I submit?
A. We need to see how you perform in front of an audience. Clips should be at least 5-10 minutes but can be longer. If accepted, we want to make sure your set is the right fit with others on a show. We will not accept gag reels, punch lists or clip shows! Do not send password protected clips or download links!
Video Submission Tips!!
Do not send password protected clips or download links.
Send a good video! This sounds simple, but one of the top reasons performers do not get accepted is the video or audio quality is bad, the stage action is blocked by the audience or the camera operator is laughing over the jokes. Videos with bad audio, shaky or blurry video make our jobs very difficult and does affect the review process!
We review the first 5 minutes unless instructed. If your video includes a long intro or other content, this can affect your submission. We watch hundreds of hours of submissions and simply can't always tell what is part of the act or not. Simply tell us when to start watching. For example: "Begin watching at 1:07, the host has a long intro". This helps us immensely!
Be honest. We have been doing this 8+ years and believe it, we have seen it all. If it's your first show, tell us! We support growing talent with plenty of outreach and opportunities for rising talent. Do not lie, or otherwise try to forgo the application process. You will be disqualified from participating in this and future festivals.
Date and time
Location
Blue Whale Comedy Festival
111 E Reconciliation Way
Guthrie Green
Tulsa, OK
Refund policy