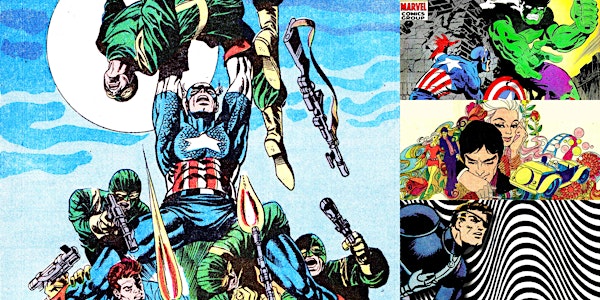 'Comic Book Artists of the Silver Age, Part 7: Jim Steranko' Webinar
Can't make it live? Register and get access to the full replay for one week! New York Adventure Club | www.AdventureClub.com
About this event
Flashback to the early 1940s when the "Golden Age" of comic books was in full swing. Little boys and girls all across America were clamoring for the next edition of their favorite comic book, eager to see how pure-hearted superheroes like Superman or Wonder Woman would defeat those pesky evil villains and save the day. But by the early 1950s, between a post-World War II society and accusations of being linked to violence among adolescents, comic books struggled to capture the hearts and minds they once did. Enter the "Silver Age" of comic books — the morally-perfect superheroes replaced with more relatable, flawed heroes dealing with unresolved issues from a troubled past. These complex stories led to a revival of the medium — geared no longer toward young children, but adults. It's time to uncover the impact that eight incredible comic book artists had on the era, which produced some of the greatest superheroes and storytelling in the history of comic books.
Join New York Adventure Club for an epic eight-part series that explores eight incredible comic book artists of the Silver Age of Comics (1956-1972), whom not only set trends in the art of comic book storytelling, but also drew the definitive versions of the industry's greatest characters that are featured in today's blockbuster Hollywood movies and television series. In Part Seven, we'll explore the masterworks of Jim Steranko, who was called the "Jimi Hendrix of comics" for his psychedelic style and career success that coincided with the music legend during the 1960s.
Led by Arlen Schumer, award-winning comic book art illustrator, historian, and author of The Silver Age of Comic Book Art, this "visualecture" and dynamic presentation will include:
A look at Steranko's dynamic style that incorporated designs, effects, and techniques liberally borrowed from pop and op art
How he became the first credited writer-artist hyphenate in Marvel Comics history
Why his character Nick Fury was censored by the Comics Code Authority
A discussion surrounding Steranko's biggest artistic influence (other than Jack Kirby)
The story behind why Jim Steranko had to take time off between issues two and three of his terrific triptych, spelled out by Kirby himself in a special one-issue "breather"
A close look at why Steranko abruptly left Marvel Comics in 1970 after a four-year string of artistic successes
Afterward, we'll have a Q&A session with Arlen — any and all questions about the Silver Age of Comics are welcomed and encouraged!
Can't make it live? Don't worry, you'll have access to the full replay for one week!
See you there, virtually!
*Once registered, you will receive a separate, automated email containing the link to join this webinar
**For the best possible viewing experience, please ensure you're using the latest version of your internet browser — Google Chrome is the most compatible. Exact technical requirements and a webinar user guide will be shared in the automated confirmation email upon registration.
***A full replay will be available after the experience for all registered guests
About Arlen
ARLEN SCHUMER, MFA is an award-winning comic book-style illustrator and comic book art historian — his book The Silver Age of Comic Book Art won the Independent Book Publishers Award for Best Popular Culture Book. ABC-TV's 20/20 named him "one of the country's preeminent authorities on comics and culture," and Comic Book Artist magazine called him "one of the more articulate and enthusiastic advocates of comic book art in America."
Comic Book Artists of the Silver Age Series
Part 1: Carmine Infantino
Part 2: Steve Ditko
Part 3: Jack Kirby
Part 4: Gil Kane
Part 5: Joe Kubert
Part 6: Gene Colan
Part 7: Jim Steranko
Part 8: Neal Adams
Testimonials
"Arlen was super knowledgable, and did a really good job relating the information to current day comic book movies and characters" -Joseph
"Really engaging speaker with polished presentation and command of the subject" -Al
"I love the historical correlations mentioned along with the accompanying particular comic book issues and storylines that correlate to history." -Maggie
"Great audio visual material, terrific speaker enthusiasm, incredible depth of knowledge" -Eric
"Arlen is fantastic at presenting comic history along with the industry greats in an interesting and engagingly visual way." -Mark
"The lecturer did a great job of turning a presentation into a story" -Joe
"Arlen is a fantastic presenter, did an incredible job!" -Pam
"Arlen brought his knowledge and passion for the subject with a flair unlike anything I've experienced anywhere else." -Cindy
"Arlen gave a fantastic presentation on the change in how comics portrayed superheroes, moving from All American middle class types to real people with real lives and issues." -Stuart
"The moderator was incredibly knowledgeable and the subject material well organized." -Barry
"The host has great encyclopedic knowledge and presentation" -Chad
"It was total nerd candy, loved it." -Jonathan
"Arlen is profoundly informative, engaging, and clear." -Joel
"Interesting presenter. Knew his stuff and was able to explain to common folks. Great comparisons of art in the presentation. Linked to current trends or popular movies of which most people would have a connection. Presented at a level that wasn't too geeky." -Brent
Disclaimer
By attending a New York Adventure Club experience, you accept our terms of service.
Categories: Virtual, Moments in History