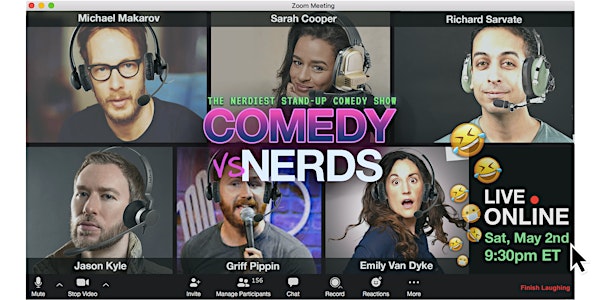 Comedy vs. Nerds ONLINE LIVE STAND-UP COMEDY
Description
Comedy vs. Nerds, LIVE ONLINE
Interactive Stand-up Comedy Show
To make your lockdown less miserable, we'll deliver live stand-up comedy straight into your apartment. You can relax on your beloved couch in your favorite underwear, guzzle a bottle of wine, and participate in a live comedy show over Zoom.
Starting in 2015, Comedy Vs. Nerds became famous for showcasing nerdy comics who poke fun at the internet, technology, and life in general. After selling out live shows in San Francisco, we decided to go online.
Audience members can interact with our nerdy comedians and feel just a little less lonely.
Get your ticket and have the best Saturday night of your quarantine. #flattenthecurve
Featured comedians:
and other comedians.
"Comedy vs. Nerds is a super successful show. We've hosted them a few times and they've sold out every show. We love having them!"
- Pianofight Comedy Club, San Francisco
"Comedy vs Nerds makes me ashamed and proud of my nerdy teenage years. Finally people laughing with me instead of at me."
- Matt Harris, CEO, SendWithUs
"Hilarious show with jokes that will hit close to home for anyone who's immersed in Bay Area tech and all of its absurdities. Definitely a must watch for nerds and cool kids alike."
- Google Employee