Don't miss this hilarious night of comedy with BCN's best English Comics and enjoy a delicious Vermuteria Bonita 3-course dinner.
About this event
You're invited every Thursday as "Funny Bald Guy", Harris Fellman, hosts an evening that combines his two favorite things in the world:
FOOD and LAUGHTER!
With a cavalcade of local comedy stars, you're guaranteed to have your sides splitting with laughter. (But not before we FEED you first.)
With a different set of comedians every week, you know each show will be different as well!
When: Every Thursday in June & July, 2021 21st 7:00 pm - 10:30 pm
Where: Vermuteria Bonita, C. Bailèn 104
Ticket price: €35-50 with dinner or €20 with just a cocktail
Contact: +34 695 168 849 via WhatsApp or harris@funnybaldguy.com
Doors Open - 7:00 PM
VIP Seating & First Plate - 7:00 PM
General Seating & First Plate - 7:15 PM
Show commences - 9:00 PM
Please see the menu below: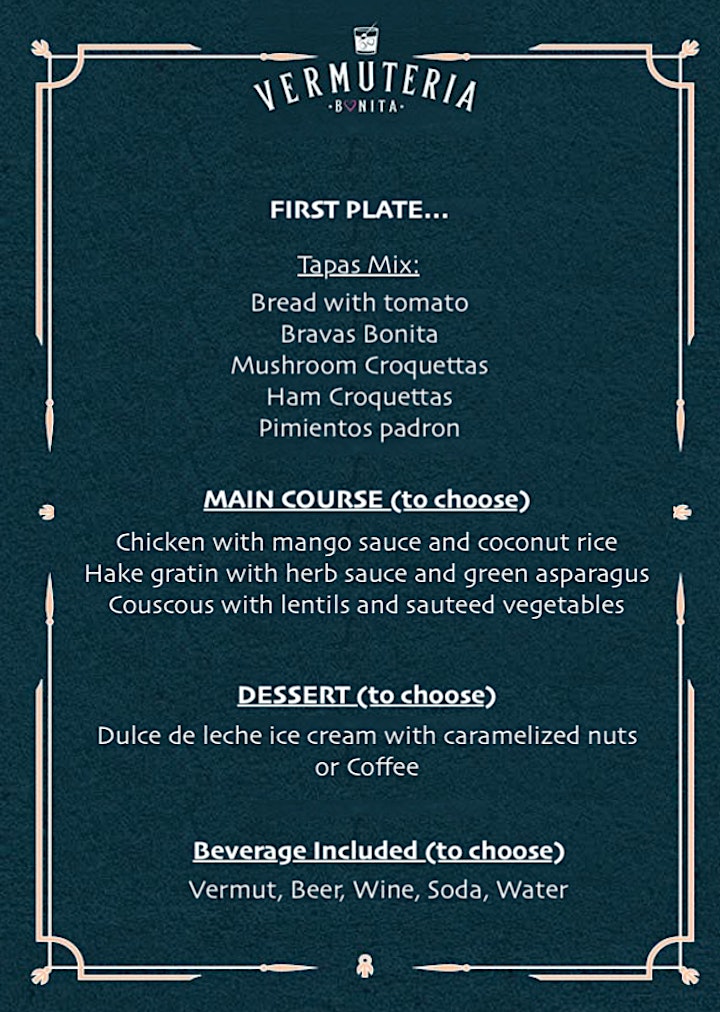 🎭 What do people say about Harris' comedy magic shows??? 🎭
🤯 🤪 🥰
---------------------------
"We both loved your show last night - I had a long and frustrating day at work so the laughter and excitement of "wow, how did he do that?" was very needed! Josh really enjoyed it too and was clapping so vigorously next to my ear that I may have a concussion!" - Cathy Crompton
"LOVED your show. You're a true showman. Naturally just have fun, keep peoples attention while bringing awe (some of those magic tricks were incredible) Brilliant!" - Tom Beal
"The show was amazing. Thank you for making even my husband laugh! That is a real feat." - Amy Grewe
"What a brilliant show this evening -comedy and magic and lots of laughter!" - Andrea Rutterford
"Such an entertaining interactive hour of magic that was fun for the whole family. Definitely recommend!" Carol Chan-Lee
"You were very funny and you left everyone wondering how you pulled it off at the end!" - Malcolm Kapadia
"Thanks for a brilliant experience Harris!" - Some British person, I lost the name :)
"BTW the guys from Barcelona really liked last Friday. They had a lot of fun with the Japanese numbers" - Francisco (this was from a private performance for Novartis)
"The team loved it. You did a great job accommodating the cultural differences. Well done!" - Francisco, after a virtual show for his team in India
"Hey Harris, very nice job, our team enjoyed your show, congratulations!!!!!!"
- Arnauldo Rodriguez, CSI Rentals
"Thanks so much Harris for the show! Great tricks!"
- Rebecca Aggarwal, Amazon RSP
"I had such a good time! It was great! " - Genevieve Francis�
"You were great! Fantastic show!" - Mark Anastasi
"Really really good 👏👏👏👏👏👏👏👏👏👏👏👏👏👏. My son loved it too. Tells me the ghost magnet materialisation was his favorite.�" - Ahmed Aly
"Great show! Very entertaining!" - Adam Gertsacov
"Great show! I'm glad I made it!" - Wayne Neal
"Amazing presentation. You fooled me badly and I was really looking." - Nacho Montenegro
"Good show man. You're funny 😂
The last trick with the glasses case was Amazing and the ending was deadly!" - Richard Butler
"Awesome show, man! It was fun, you were hilarious." - Simon Leung
"If you like Cheesy Goodness and Jokes with your entertainment, Harris is the guy. He will steal the show and put smiles on every face. I highly recommend him." - Mike Filsaime
" Loved your show - made me laugh so much." - David Congreave
"I loved the magic tricks! I have no idea how any of them worked! And the big reveal at the end blew my mind! He was awesome!" - Hara Allison
"Very good Harris, amazing, congratulations 👏🏻👏🏻👏🏻" - Jorge Aguilar
"That was fun and my husband really enjoyed your show, he wants you to know, he's a fan" - Ali (re: Jay)
Organizer of Comedy Supper Club - Dinner/Comedy show at the Vermuteria Bonita