Description
Featuring the best comedians from the Bay Area and beyond, with appearances on Comedy Central, HBO, Late Night talk shows, and performances on every habitable continent, Comedy Oakland brings you a hilarious lineup of comedians every week!

Triple Voodoo Brewing is partnering with Spice Monkey and Comedy Oakland to present Triple Voodoo Comedy Dinner. Check-out the amazing menu for this one night special event.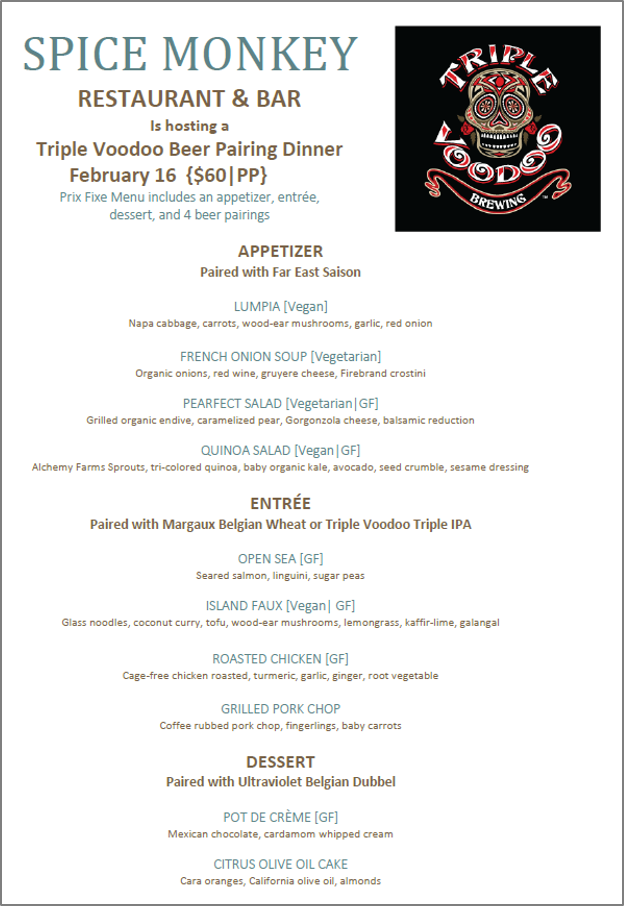 We've got dinner + show special available for purchase at $65 (online only), regular price is $70.
No drink minimums, no ticket fees, no tolls, no parking hassles - just great comedy and food!
The venue is not wheelchair accessible. You will have to walk up a flight of stairs.
FAQs
CAN I ORDER FOOD AND DRINKS AT THE SHOW?
​​YES. Food and drinks are available for purchase during the show. We do not enforce any minimums. We recommend arriving earlier for dinner (30-60 minutes before show time). We serve mouth-watering, globally inspired cuisine, and good food takes time to cook. Arrive early, give yourself the time to relax and enjoy the meal. During the show serving appetizers, desserts, and drinks is easier.
CAN MY GROUP SIT TOGETHER?
If your group has bought tickets under 1 name we will reserve group seating for you. If tickets are purchased by separate people then email info@ComedyOakland.com your group size and we will reserve group seating for you. Arrive early to ensure your group occupies the reserved seats. If you aren't in your seats at least 15 minutes before show time we cannot guarantee your group seating.
IS THERE ANY AGE RESTRICTION?
​​We recommend 18+. If you are under 18 and accompanied by an adult who doesn't mind it, we won't mind it. If you are too young to sit quietly in one place for 90 minutes we'll be happy to to tie you to your chair and tape your mouth during the show.
IS THERE A DRESS CODE?
​​As long as you wear something, we don't care what you wear.
WHAT ARE THE HOUSE RULES?
​​No video recording. No flash photography. No talking / texting / socializing on your phones during the show. No Alpacas.
WHAT IS YOUR REFUND / CANCELLATION / TRANSFER POLICY?
We will refund your full purchase if you refund request arrives atleast 60 minutes prior to show time (no questions asked). After that we will refund your request (still no questions asked) minus whatever fees are deducted by eventbrite. No refunds once the show starts (and no questions answered). If a show is cancelled we will inform everyone as soon as we know and refund the full amount (all questions answered). We are unable to transfer tickets from one show to another on eventrbite. If you need to transfer your purchase to a different show just initiate a refund request, we will process it, and you can purchase your tickets again.
WHAT IF I HAVE A QUESTION THAT IS STILL NOT ANSWERED?
​​Who do you think you are? My mother? Do you really need to know everything? Okay, just email info@ComedyOakland.com and we'll be happy to answer it for you.