Comedy Night@Thatcher McGhee's for Caldwell/W.Caldwell Education Foundation
Comedy Night @ Thatcher McGhee's for Caldwell/West Caldwell Education Foundation
About this event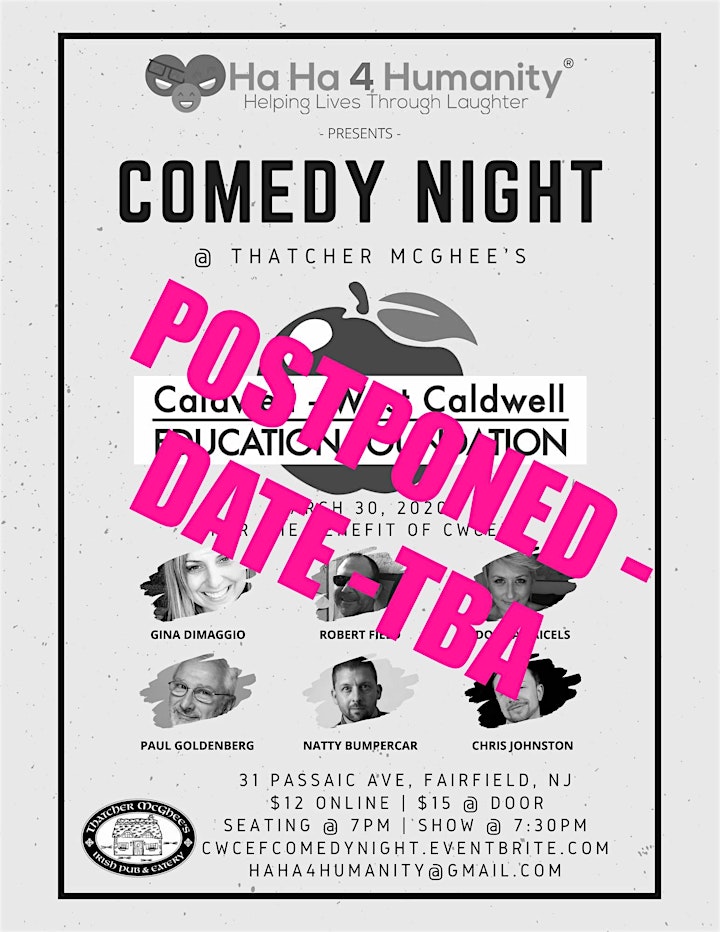 Come on out to Comedy Night@Thatcher McGhee's, Monday, March 30th, 2020 @7:30pm for the benefit of the Caldwell/West Caldwell Education Foundation.
The Caldwell-West Caldwell Education Foundations mission is to support educational excellence within our school system through a combination of parent and community donations achieved through a number of fundraising events held throughout the year. The Foundation is a 501(c)(3) non-profit charitable organization managed by a board of volunteer Trustees and has no employees or physical assets. The Caldwell-West Caldwell Education Foundation has funded hundreds of grants totaling to date over $200,000.00 since our founding in 2005. We are a the leading provider of private funding to the Caldwell-West Caldwell School District. With a focus on supporting innovative and creative educational programs, special events and projects that are designed to enrich the educational experience of the more then roughly 2600 students enrolled in our district's public school system. Our organization consists of volunteers from all corners of the community and we operate independently of the Board of Education and the various Parent- Teacher Organizations associated with each school.
Tickets: $12 online; $15 at the door
March 30th Line-up:
Robert Field
Chris Johnston
Gina Dimaggio
Paul Goldenberg
Donna Vaicels
Natty Bumpercar
**PLEASE NOTE: All seats for the show will be assigned/reserved in advance. Please email Catering@thatchermcghees.com or call 973-227-4938 if you are buying tickets individually but would like to sit with friends OR if you would like to make a table reservation and allow your guests to pay at the door.
Organizer of Comedy Night@Thatcher McGhee's for Caldwell/W.Caldwell Education Foundation
HaHa4Humanity is an organization, founded by Robert Field, that specializes in producing comedy shows for charitable causes and corporate events.
Robert Field
Robert is a Stand-up comedian, who speaks about parenting, dating and divorce and how he deals with the constantly changing landscape of life.  As a 40-something Divorced Dad, wisdom came with age for Robert or maybe it was somewhere between Marriage and Divorce.
In May 2015, Robert had a life changing event, when a dear friend of his died at 44 year old, leaving his 3 year old girl behind. With kids of his own and knowing the financial burden of raising children, Robert hosted the 1st of many shows raising money for people in need. 
Robert's life goal to help people through laughter and goodwill.