Comedy Night@Thatcher McGhee's Benefiting Clifton Local PBA#36
About this event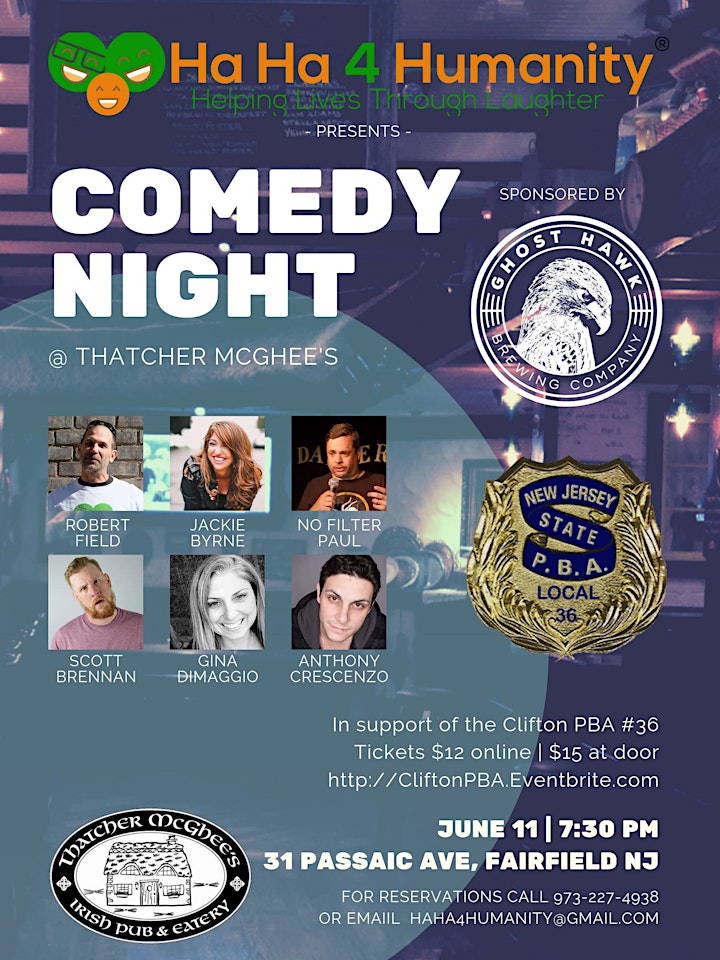 Come on out to Comedy Night@Thatcher McGhee's Tuesday, June 11th, 2019 @7:30pm to support Clifton PBA#36!
The Clifton PBA membership is comprised of police officers within the City of Clifton. The PBA membership is committed to the prevention of crime, protection of life and property, enforcement of laws, ordinances and the safeguarding of constitutional rights and guarantees. Since 1915, we have strived to obtain the highest standards of performance, professional conduct and ethics. we continually try to develop and foster a partnership with the community as a way to fulfill our mission.
The PBA also represents the police officers in contract negotiations, grievances and matters pertaining to work conditions and officer safety. In this capacity we work diligently to ensure that our members are fairly compensated and provided the training, equipment and support needed to serve the public effectively and efficiently. The PBA also protects the rights of it's members under Federal and State law, as well as under the contractual agreement made between the PBA and the City of Clifton.
June 11th Line-up:
Anthony Crescenzo (Scotty's Comedy Cove)
Gina Dimaggio (New York Comedy Club, Greenwich Village Comedy Club, Meadowlands Comedy Festival)
No Filter Paul (The Opie and Anthony Show, Levity Live, Broadway Comedy Club)
Jackie Byrne (Buzzfeed, Funny or Die)
Scott Brennen (Verbal Shenanigans)
Host and Founder of HaHa4Humanity:
Robert Field
Tickets: $12 online; $15 at the door
**PLEASE NOTE: All seats for the show will be assigned/reserved in advance. Please email Catering@thatchermcghees.com or call 973-227-4938 if you are buying tickets individually but would like to sit with friends OR if you would like to make a table reservation and allow your guests to pay at the door.
Organizer of Comedy Night@Thatcher McGhee's Benefiting Clifton
HaHa4Humanity is an organization, founded by Robert Field, that specializes in producing comedy shows for charitable causes and corporate events.
Robert Field
Robert is a Stand-up comedian, who speaks about parenting, dating and divorce and how he deals with the constantly changing landscape of life.  As a 40-something Divorced Dad, wisdom came with age for Robert or maybe it was somewhere between Marriage and Divorce.
In May 2015, Robert had a life changing event, when a dear friend of his died at 44 year old, leaving his 3 year old girl behind. With kids of his own and knowing the financial burden of raising children, Robert hosted the 1st of many shows raising money for people in need. 
Robert's life goal to help people through laughter and goodwill.