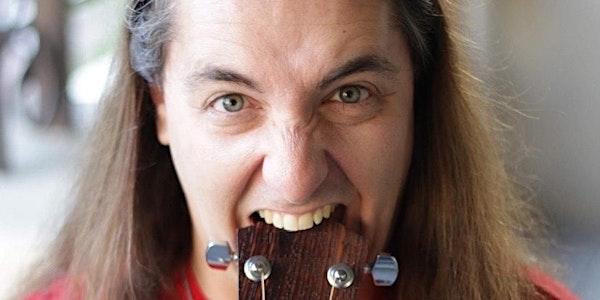 Comedy Night at The Siren with Phil Johnson
Presented By Misfit Live Comedy
Performers
Phil Johnson
Clay Newman, Justin Bournonvie
Location
The Siren
900 Main Street
Morro Bay, CA 93442
Need something to lighten the mood and bring a little laughter into your life? Well comedy night returns with another lineup of LA's finest!
About this event
HEADLINER PHIL JOHNSON:
Being human is a constant struggle between defining ourselves as individuals and trying to fit in with "the group"...
Phil Johnson, who has appeared at the Sundance Film Festival and the Edinburgh Fringe Festival, uses comedy and music to dissect the dilemma of individuality vs. acceptance in his own life and others.
In pieces like "Vertical Eyebrows", "Gangsta Pooh", and "State Hats" Phil discusses the challenges and rewards of being different and proud of it. Though sometimes people misplace their self-worth into meaningless objects like in "Truck Nuts".
But we also have to be concerned with how we relate to the thoughts and feelings of others around us. From dealing with new social issues ("Robots" and "Gay Children's Books") to keeping the relationship fire alive ("Bad Porno Sex" and "Geeks Don't Care").
Phil Johnson, like everyone else, sometimes gets it and sometimes wonders what the heck people are thinking. On stage his playful humor and likeable, endearing manner allow him to shake things up without antagonizing the audience. In the end we can only be who we are, try to understand others, and hope they understand us.
CLAY NEWMAN:
This stony, joke slinging rabble rouser has been delighting audiences for years with his high energy and eclectic take on this weird world we live in. His comedy career began as just another way for the long time theater nerd to get his stage fix, but he soon found that stand-up was his greatest passion and only actual skill.
With his love for animals and mediocre editing prowess, you can see Clay any time on his YouTube series: The Zoo Review.
When Clay isn't headlining and featuring in local shows across the west coast, he is often found hosting at Punch Line and Cobb's in San Francisco, The Improv in San Jose, Rooster T Feathers in Sunnyvale, and Punch Line in Sacramento, as well as showcases at Flappers in Burbank. He's recently been seen opening for Eric Andre, Andrew Santino, Ismo, Aida Rodriguez, Sam Tripoli, Andy Woodhull, and Sheng Wang. As far as competitions and festivals go, Clay was a finalist in the 2019 San Francisco Comedy Competition, 2017 Rooster T Feathers Competition, and 2016 Ventura Harbor Competition, and he won the 2015 Comedy Oakland Tournament of Champions. SF Sketchfest has featured Clay for the past 5 years, and he has also been seen at the Big Pine, Ventura Harbor, and Santa Cruz Comedy Festivals.
Though he is usually a sweet boy, Clay can be sassy when he needs to be and has hosted the roasts of Dustin Diamond and Broke Ass Stuart. He is currently 1-0 at The Comedy Store's Roast Battle.
Justin Bournonvie is the opener