Description
Experience Sweet Caroline's Comedy at our newest location: Limelight Stage + Studios in Boston's theater district. Held every Friday on the main stage at Limelight, Sweet Caroline's Comedy brings you some of the funniest comics in the country -- and it's only 5 bucks!
Our lineups feature headlining comedians who've been featured on Comedy Central, Last Comic Standing and Jimmy Kimmel Live, to name a few.
Swing by this week for a hilarious lineup featuring:
- Nick Chambers (Oddball Comedy & Curiosity Festival)
- Jiayong Li (opener for Judah Friedlander)
- Peter Martin (winner of the 2015's Boston Comedy Festival)
- Ben Wasserman (VICE)
- Andrew Mayer (winner of 2017's Boston Comedy Festival)
- Hannah Boone (Laugh Factory, The Comedy Store)
- Xazmin Garza (comic-in-residence at The Comedy Studio)
Cheap beer. Awesome food. Hilarious comedy. What more could you need?
Doors open at 7pm. Show starts at 7:30pm. $5. 18+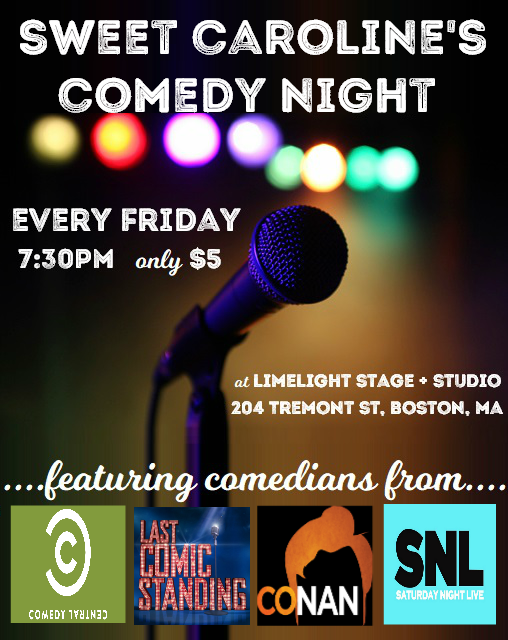 --------------------
NOTE: The show sells out and tables fill up quickly. Tickets guarantee a seat, but please buy your ticket in advance and arrive early (we'd recommend 7:00) to guarantee a table.