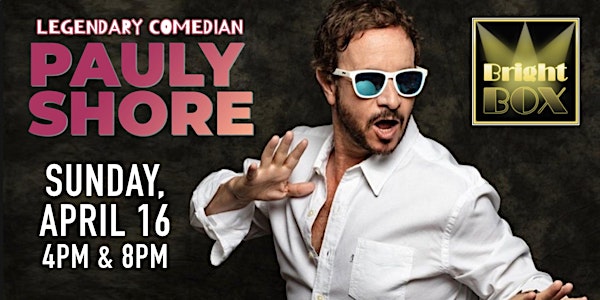 Comedy Legend Pauly Shore // 8PM SHOW
Legendary comedian with starring roles in films like "Jury Duty," "Bio-Dome," "Encino Man," "Son In Law," "A Goofy Movie," "In The Army Now"
When and where
Location
Bright Box Theater 15 N. Loudoun St. Winchester, VA 22601
About this event
SUNDAY, APRIL 16 -- EVENING SHOW
VIP EARLY ENTRY at 6:30PM
GENERAL ADMISSION DOORS at 7PM
SHOW at 8PM
TICKETS
GENERAL ADMISSION: $30 + admission tax & processing fee
VIP EARLY ENTRY : $40 + admission tax & processing fee
DOOR: $35 + admission tax
VIP EARLY ENTRY TICKETS allow entrance into the venue half an hour before doors open to the public, allowing you first choice of seating
Advance ticket sales end at 5PM the day of the show. If tickets are not sold out by this time they will be available for purchase when the doors open.
ALL TICKET SALES ARE FINAL unless the show is cancelled or rescheduled
IMPORTANT INFO
This is an all-seated event in the main theater
GENERAL ADMISSION - arrive early for best choice of seating
Due to mature content, this show is AGES 18+
FOOD & DRINK available for purchase
________________________________________________________
Pauly Shore tasted super-stardom in 1990 when his MTV show "Totally Pauly" hit the airwaves to major fan approval. The show ran for six years, leading Pauly to a one-hour HBO comedy special, "Pauly Does Dallas," and starring roles in films like "Jury Duty," "In the Army Now," "Bio-Dome," "Encino Man," "Son In Law," and "A Goofy Movie."
Pauly went on to produce and star in several of his own projects, including "Pauly Shore is Dead," as well as the comedy specials "Vegas is My Oyster," on Showtime starring Andy Dick, Tom Green, Bobby Lee, and "Pauly-Tics," on Showtime starring Herman Cain and Larry King. In 2014, he released "Pauly Shore Stands Alone," a true-life road documentary that follows Pauly as he performs in obscure towns throughout Wisconsin while dealing with his personal life. It appeared on Showtime and is available on Amazon Prime and YouTube.
Other recent projects include Adam Sandler's "Sandy Wexler," the short film "Sin City Psycho" Dreamworks' animated "The Big Trip," Lionsgate's animated film "The Little Penguin: Pororo's Dinosaur Island Adventure" and the indie feature "How it Ends" starring Whitney Cummings, Olivia Wilde, Nick Kroll and more. Pauly also starred in the movie "Guest House," which is currently streaming on Netflix (digital and on-demand). In 2022, Pauly voices characters in Dreamworks' "Pinocchio: A True Story" and "My Sweet Monster."
Pauly released a series of video interviews in 2017 called the "Pauly Shore Podcast Show." His guests included Judd Apatow, Iliza Shlesinger, Bob Saget and more. Pauly also hosted a podcast called "Pauly Shore's Random Rants" which you can find on Bill Burr's All Things Comedy, Apple Podcasts, Spotify, Stitcher and YouTube.
Pauly also creates fun content for his fans, including a five minute workout show called Sweatin with the Wiez, recreation of iconic movie scenes called "Classic Scenes from Classic Movies" and music videos with his band 'Pauly Shore and The Crustys - all of which can be seen on YouTube, Instagram, and TikTok.
Apart from actively touring the country with his stand-up comedy, Pauly is working on a documentary of his life that spans the '70s, '80s and '90s along with a memoir called "How'd You Expect Me to Turn Out" and a one man show about his life entitled "Stick with the Dancing: Funny Stories From my Childhood".
________________________________________________________
FAQs:
Where do I park?
Bright Box is located at 15 N. Loudoun St. on the beautiful pedestrian mall in Old Town Winchester. The nearest parking is the Braddock Auto Park at 30 N Braddock St. This is about a block away from the venue. The parking garage does have several handicap parking spaces available.
Once you've parked in the garage you'll exit toward the pedestrian mall. Once you hit N. Loudoun you'll make a right and Bright Box will be on your right a few storefronts up, directly across from the Old Court House Civil War Museum
More information about the garage can be found here: https://www.winchesterva.gov/parking/garage-information
Is Bright Box handicap accessible?
Absolutely. The venue is handicap accessible and ADA compliant. The infrastructure in Old Town Winchester is friendly toward those with physical challenges or in wheelchairs. Park in one of the close-by parking garages and come to the main door at 15 N. Loudoun St. (the walking mall). We ask that you arrive when doors open, and we will be happy to escort you to a place best suited to your needs in the theater or to take you to the elevator to access the upstairs Out of the Box room.
Is there lodging nearby?
There are lots of great and affordable lodging options — from hotels and motels to camp grounds and bed & breakfast spots — just minutes away from Bright Box. Right around the block is the elegant George Washington Hotel, and Courtyard Marriott is quick drive and within a stones throw to the beautiful (and highly recommended) Shenandoah Valley Museum. Check out these websites to explore your options and discover all the wonderful opportunities in Winchester:
• http://www.visitwinchesterva.com/lodging/hotels-and-motels