Comedy, Journalism, and the Role of Fact in Satire (Oct 2)
Description
COMEDY, JOURNALISM, AND THE ROLE OF FACT IN SATIRE with YouTube star, Joanna Hausmann
Comedy is now politics. Politics is now comedy. Take a look at how comedians have both reacted to and shaped the zeitgeist.
Class meets Wednesday, Oct. 2 from 6:30 to 8:30 pm
The cost for this workshop is $59; $49 Early Bird rate before September 9

Have SNL sketches impacted elections? How deeply are journalists involved in the writer's rooms of shows like Last Week Tonight? We will also go way beyond the U.S to examine how satire has played a part in countries facing different socio-political hardships. How do Venezuelan comedians bypass censorship? Why has the U.S Department of State invested in creating a satire show in Nigeria? Who is Egypt's "Jon Stewart" and why is he exiled?
Joanna will examine the power of comedy, take you through her own skit-writing process and make you laugh along the way.

Level: Beginner
---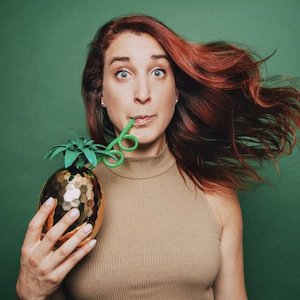 About Joanna Hausmann

Joanna is a Venezuelan-American comedian, writer and actor who gained popularity through her videos on YouTube and as lead writer/talent on Univision's bilingual digital platform "Flama." Her viral creations have garnered over 70 million views and have been featured in places like CNN, The Huffington Post, BuzzFeed, NPR, and the BBC. Her biweekly show Joanna Rants has collectively reached over 50 million views and has garnered an international fan club (as well as a club that claims she looks like British explorer Bear Grylls). Her work won her "Best Comedian" and "Creator of the Year" in Hispanicize's 2016 Tecla awards. She was also honored by the National Hispanic Media Coalition with the 2018 award for "Best Online Storyteller."
Hausmann is a correspondent on the three season's Netflix's series Bill Nye Saves The World which premiered April 21st, 2017 and was named the shows "unlikely science star" by Inverse Magazine. Joanna voices the alien villain on the Disney Channel series "Milo Murphy's Law" and will also voice a character on the upcoming animated series "Monster's Inc."
She has taught Journalism and Comedy classes at the Craig Newmark Graduate School of Journalism at CUNY.