Comedy in Parrish-dise an OUTDOOR music and comedy fundraising event supporting a local Parrish charity, the Anthony Fowler Foundation.
About this event
A night of music and comedy featuring nationally touring comic, Tim the Dairy Farmer. Live music and mingling starts at 6pm comedy show starts at 7pm. This is an OUTDOOR event under a tent. Food and cash bar available. all proceeds support AFF Inc www.affinc.org
This show is R rated 18+ to enter 21+ to drink.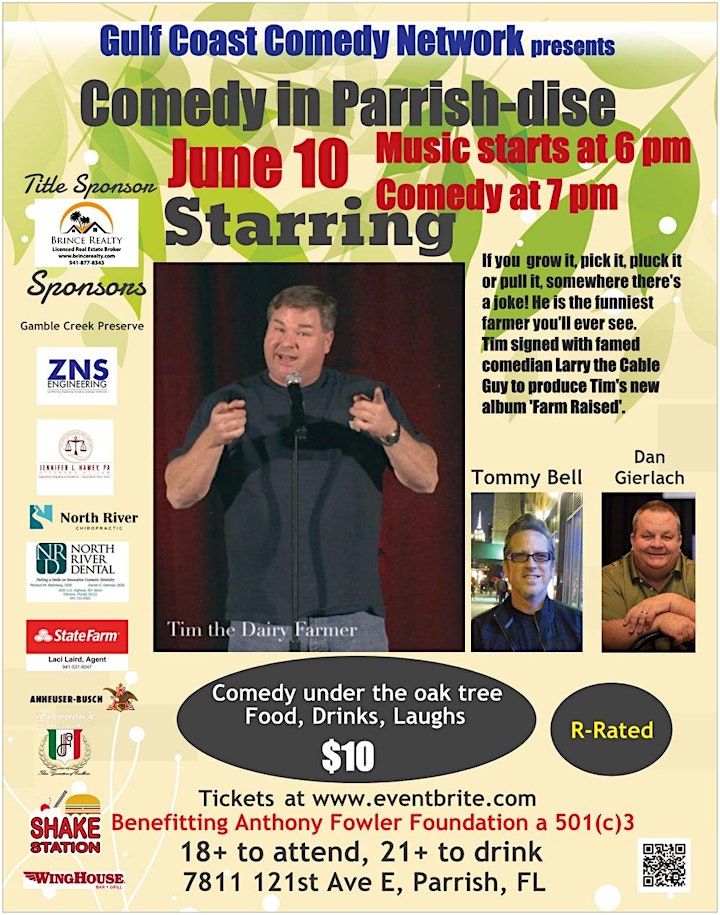 Organizer of Comedy in Parrish-dise Under the Oak Tree
The Anthony Fowler Foundation was started for my son after he died in a tragic accident. The community rallied and raised funds for us while he was in the PICU for 12 days, when afterward he became an organ donor, saving 5 people and giving site to two. We were grateful to not need the money and decided to give it all back to the community. Anthony played various sports but his love was for baseball. We took the donated money and built a dugout, refurbished the stands and concession, planted trees, built a memorial and acknowledged the first responders.
AFF inc now offers sports equipment grants to local youth and provides support emotionally and financially to families who have had a child die unexpectedly. Go to www.affinc.org for more information.