Comedy & Hypnotism with the country's hippest hypnotist... Flip Orley
About this event
SEATING INFORMATION:
Modified seating due to balcony construction (tables temporarily not available)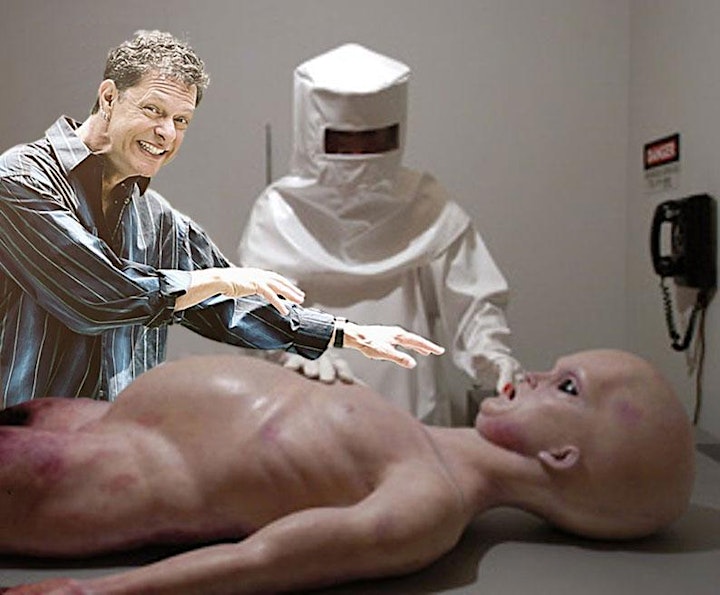 "Aliens Are Among Us and They're Hilarious!
People on stage are convinced they're ET's and some even speak their language. It's outrageous!
UFO'S & ALIENS: July 8, 2022 will be the 75th anniversary of Roswell New Mexico's UFO incident. According to the United Nations there have been 150 million UFO sightings worldwide since 1947. The movie "Alien" was so successful it had 4 sequels and so did the movie "Predator" and the list goes on.
In honor of Roswell and our fascination with outer space and it's inhabitants, comedy hypnotist Flip Orley presents an evening exclusively dedicated to UFO's and aliens. His on stage volunteers claim they've seen UFO's and or are aliens themselves and some of them can actually speak the alien language. It's wild, crazy and an evening of "non-stop" laughter!.
For over 20 years Flip Orley has been selling out comedy clubs coast to coast by the week! The DC Improv and others booked him for 12 straight weeks! He's made multiple appearances on NBC's Today Show, Entertainment Tonight, and Comedy Central.
The LA Times says- "The beauty of Flip's show is that most of the humor comes from the volunteers, so no 2 shows are ever alike."
San Diego Tribune- " People on stage claimed they met space aliens and could speak their language. The audience went nuts!."
Dallas Morning News- "Flip Orley's comedic and creative skills set him way above all other comedy hypnotists. His volunteers were convinced they saw UFO's"
About Flip Orley
Official Website | Facebook | Instagram | YouTube
When Flip takes the stage and rolls up his sleeves, his audience can expect two hours FUN and an experience they will never forget.
Since Flip Orley has burst onto the comedy scene he has single - handedly reshaped the image of hypnosis from its vaudeville image, to an act hip and edgy enough for the MTV generation. Flip's appearance on the "Today Show" brought rave reviews and stopped traffic in midtown Manhattan. His one-man show has set comedy club attendance records from coast to coast. Faithful fans and new comers alike find themselves screaming with laughter as Flip ignites his volunteers' subconscious minds and transforms reality. What sets Orley apart from others in his craft, is his true comedic ability, delivering a hilarious stand up set before unleashing his volunteers creative imaginations. The Los Angeles Times attests that "...the beauty of Orley's show is that, because most of the humor comes from the volunteers, and no two performances are alike." The Dallas Morning News reports, "It's difficult to remain skeptical after seeing Flip transform a panel of well behaved audience members into a family of trailer-park dwellers from Arkansas, Southern accent and all!"
Orley has been seen on "Entertainment Tonight," "The Today Show," "Comic Strip Live," the "Ricki Lake Show," Maury Povich" and "Space Ghost Coast To Coast." It is his uncanny way with subjects, his finely tuned power of suggestion and rapid-fire delivery that keeps audiences coming back for more. Unlike past generations of hypnotists, Orley does not humiliate his subjects for comic effect, but entertains by enlightening his audiences...often with lasting beneficial effects on those who have been inducted.
Flip is adamant about "not" embarrassing his volunteers. "I want the audience to laugh with them, not at them," he says. "This is the purest form of improvisational entertainment you will ever see as the show rewrites itself every night, and the volunteers are my partners, not my victims. Each subject is treated with respect and gentility."
About the Milton Theatre
Official Website | Facebook | Twitter | Instagram
The historic Milton Theatre is a uniquely diverse venue where you will find the best local, regional, national, and international talent. Free municipal and on-street parking are available. Full bar and light food options available. This facility is fully accessible.