| | |
| --- | --- |
| | |
Event Details
'COMEDY GRAB BAG' PORTLAND'S TAKE ON THE CLASSIC VARIETY SHOW IS BACK, AND WE'RE TAKING YOU TO COURT! 
This month Comedy Grab Bag is issued a subpoena to the trial of the century and you're invited.
PORTLAND, Ore. (May 16th & 17th) – Action/Adventure Theater is proud to welcome back Comedy Grab Bag with this month's special guests stand-up Amy Miller (WW top 5 Funniest, Bridgetown Comedy Festival) and renowned improvisor Leon Anderson (Whiskey Tango, SF Sketchfest, Curious Comedy). 
Comedy Grab Bag is a refreshingly hilarious mélange of open format comedy including, improv, stand-up, sketch, mixed media and more. Each show the Grab Bag writers create an entirely new performance of never before seen content crafted skillfully around a central theme. This month Comedy Grab Bag asks its audience to help keep order in the court as the Honorable Judge Leon Anderson presides over the trial of the century.  A case so explosive we'll need a panel of experts, a cracker jack legal team, and plenty of out of date OJ references!  Expect a memorable night full of uniquely bizarre surprises from the rotating cast of Portland's finest comedic minds. Now in its ninth installment Comedy Grab Bag is quickly becoming a must-see in Portland's ever emerging comedy scene!
The brainchild of Bridgetown Comedy Festival co-founder Kimberly Brady, and improviser and stand-up comedian Jay Flewelling, Comedy Grab Bag's writing team consists of: Kimberly Brady, Nick Beaird, Jay Flewelling, DJ Hupp, and Jason Williams. All video shorts featured in Grab Bag are directed by Jason Williams whose recent work has been featured on Last Call with Carson Daily. Improv comedy for the night will be skillfully handled by Grab Bag mainstays "The Baguettes", who are honored to welcome guest Monologist Leon Anderson to join them.  Having just returned from SF Sketchfest with Whiskey Tango, Leon is more than ready to deliver impromptu monologues based off of audience suggestions for The Baguettes to spin his stories into improv gold.  The Baguettes are made up of: Ashley Barton, Nick Beaird, Kimberly Brady, Jay Flewelling, DJ Hupp, Bill McKinley, Dylan Reiff, Annie Rimmer, Jason Williams, & Al Zimmerman.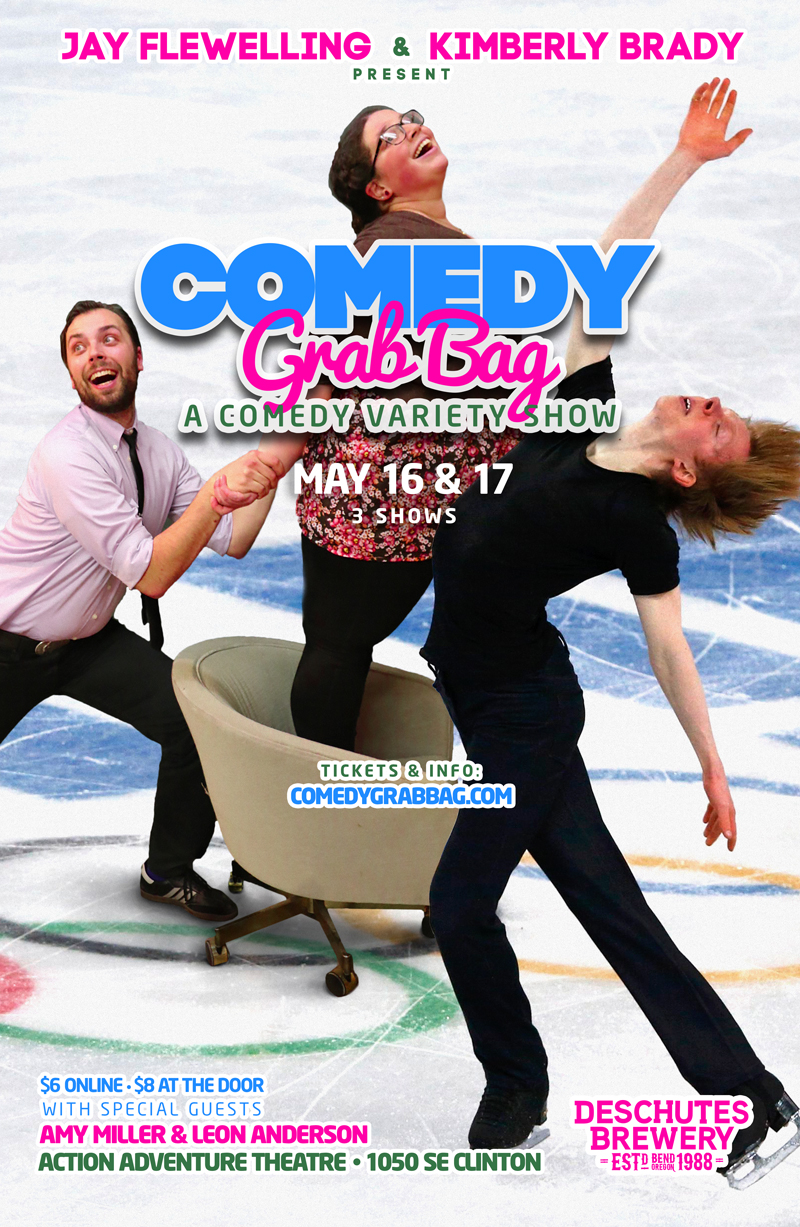 Where

Action/Adventure Theater
1050 SE Clinton Street
Portland, OR 97202