Comedy For A Cause - Rodney's Kitchen for Kids - Cohosted by "Iowa love"
About this Event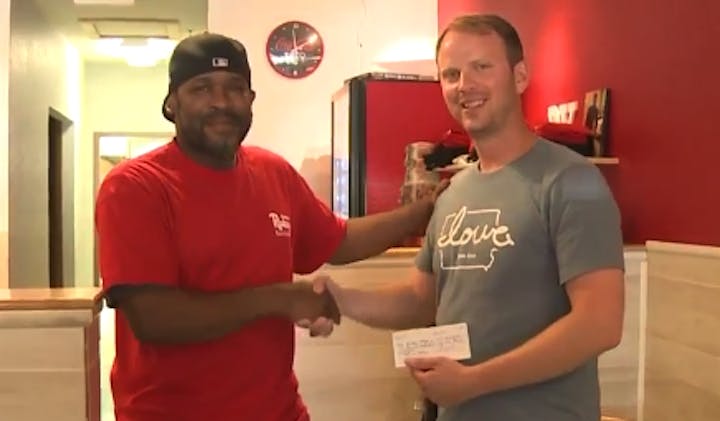 Let's get together for a night of standup comedy featuring comics from across Iowa for a good cause - Rodney's Kitchen for Kids free sack lunches.
So many of you within the Cedar Valley (and beyond!) have been incredibly generous supporting the program over these last four years.
Whether it's been through donating food, cash, or your time, purchasing and proudly wearing an "Iowa love" Rodney's Kitchen for Kids T-Shirt (fundraised $1,950 in June), or Spreading the word, the success of this program has been entirely because of you.
This is an opportunity for all of us (especially those who haven't had an opportunity to support the program yet) to come together, share some laughs, enjoy some chicken wings and beers, and continue our support.
If you missed out on getting your "Iowa love" Rodney's Kitchen for Kids T-Shirt during the two-week drive last month (where you helped us raise $1,950 for the program) now is your chance to grab one. Order Now.
Plus, if you wear your "Iowa love" Rodney's Kitchen for Kids T-Shirt to the event, you Receive a Free Gift from "Iowa love".
What does a ticket include?
Admission
Wings Basket + Beverage
Laughs
Doors open at 7pm, Show starts at 8pm
Rodney's Kitchen for Kids
Rodney Lewis, owner of Rodney's Kitchen, is into his fourth year providing free sack lunches to children during the summer and holiday vacations. During this summer's program first week, 336 lunches were distributed between Tuesday and Friday - that's an average of 84 per day.
The goal of the program is to provide not only nutritious meals, but to regularly offer variety so the children are more likely to seek out the sack lunches as opposed to depending on less nutritional food elsewhere.
Although the program continues to be supported by partner sponsors, the program is not funded indefinitely and the community has voiced their desire to financially support, and even expand, the program.
Enter "Iowa love" T-Shirts.
"Iowa love" was launched as a social enterprise with Mission to
Expression - provide an apparel and gifts line enabling folks to express and share their love of Iowa
Local Business - partner with locally owned vendors and retailers to boost the state and local economies
Iowa nonprofits - share quarterly profits with organizations that live out "Iowa love"
In addition to attending the show, how you can help:
Buy yourself an "Rodney's Kitchen" Kids Free Lunch - "Iowa love" T-Shirt! Order Now.
Gift your friend and/or family member an "Rodney's Kitchen" Kids Free Lunch - "Iowa love" T-Shirt!
Share this post with a personalized message on your social media!
Contribute a one time donation to "Rodney's Kitchen for Kids", 624 Sycamore Street, Waterloo, IA, 50703.