Description
DECEPTIOMICS @ Otto's Shrunken Head
538 E. 14th Street, New York, NY
MON, APRIL 3 @ 10:45PM
https://www.youtube.com/watch?v=jcmSSIp5SEU
Tickets are $10 at the door, no drink minimum, no dress code. RSVP guarantees entry & limited edition poster while supplies last.
DECEPTICOMICS is a traveling comedy troupe founded in February 2012 providing a unique and modern comedy experience. Their stand-up comedy show appeals to any audience, combining elements of urban, alternative, and Southern comedy into universally welcomed laughs. The DECEPTICOMICS have performed in New York, New Jersey, Pennsylvania, Connecticut, Virginia, Georgia, Texas, and Washington, DC. They have been featured on MTV, BET, E!, Adult Swim and more!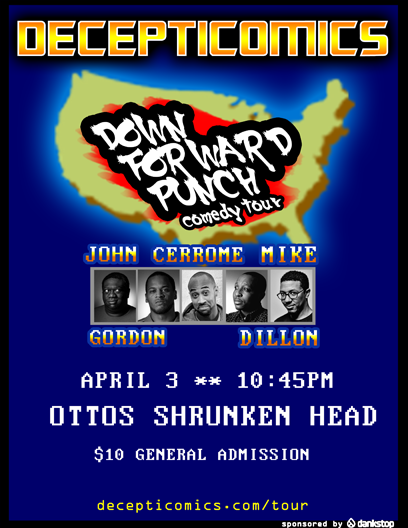 It stars:
Dillon Stevenson is a comedian and writer based out of New York City. He's performed stand-up at New York Comedy Club, Broadway Comedy Club and Gotham Comedy Club and other venues in NYC. He was recently profiled in Okayplayer and featured in Dillon is often seen with a microphone in hand, but he'd prefer it was a light saber.

Gordon Baker-Bone is a stellar comedian who is regularly booked for shows all over NJ, CT, NYC, AND PA. His style can be described as a clever, witty, and chaotic connecting with people on all levels. He frequently performs at clubs such as Stress Factory and Comix at Foxwoods.

John Minus is a comedian, writer, and all-around great guy who lives and breathes his home state of New Jersey. From Race to Role-Playing games, John can speak intelligently (but not necessarily sanely) about many topics. He's performed at Broadway Comedy Club, Comix at Foxwoods, and Greenwich Comedy Club among others.

Mike Brown is a comedian and writer from Harlem, New York. He's performed at Caroline's Comedy Club, Stand Up NY, Laugh Lounge, EastVille Comedy Club, as well as Sirius XM. He also hosts events, pretty much constantly. Really! Mike can come across as intelligent and erudite, but he is as silly as can be when the situation calls for it. A study in contradictions, Mike is funny at all times.

Cerrome Russell, born and raised in Sumter County, GA, started his comedy career 10 years ago while serving in the United States Marine Corps. He was first exposed to a broader audience as a cast member on the 2nd Season of BET's popular prank show Hell Date. He has traveled extensively, performing at college campuses and military installations worldwide. Cerrome Russell's comedy comes in many varieties, including Off-Center, Truthful, and of course, Country.