Location
Common Grounds Meeting Hall
12735 Tamiami Trail
North Port, FL 34287
GET READY TO SET SAIL IT'S COMEDY CRUISE NIGHT!! PAST SHOWS HAVE SOLD OUT, GET TICKETS EARLY !
About this event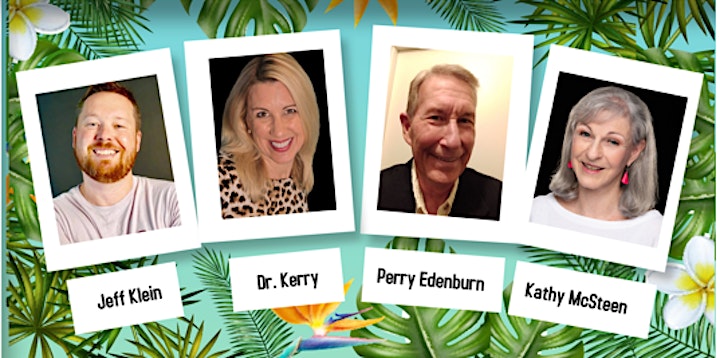 . Be ready to toast as you set sail with light-hearted, adult-clean stand-up comedy at Common Grounds. As always, you're welcome to bring your own refreshments, enjoy ours for a donation, and try your luck with the 50/50 raffle.
Past comedy shows have sold out, so don't be left out. Get your general admission tickets early. This event will be video recorded to help one of our comedians snag a cruise ship gig. No kidding!
YOUR CREW:
is a Florida native who's performed all over the US, including the LA and Miami Pride Comedy Festivals. Voted Tampa's "Best Up and Coming Comic" of 2022, Jeff is an observational stand-up influenced by Jerry Seinfeld, John Mulaney, Jim Gaffigan and Sarah Silverman and loves talking about and being true to himself.
is a comedian, speaker, college professor, and published author. In her stand-up, she shares her real-life experiences with audiences across the country. This April, Dr. Kerry kicked off the 2022 Women's Conference of Florida in Tampa and had 1500 sober folks laughing at 8 a.m. Now that's putting the Phun in Ph.D.
has performed as the fashion and denture challenged "Harley Worthit" for 30 years in Branson, at Dollywood, and countless family friendly venues across the US and Florida. For the very first time, he's sending Harley to the muster station so you can be merry with Perry. I hear he's pretty durn hilarious!
is Florida Comedy Network's show instigator and your cruise director for the night. She enjoys creating entertainment experiences that give area talent an opportunity to shine and everybody a reason to laugh. The author of "Grandma's Murder Club," a comedic stage adaptation of Florence Henderson's last film, Kathy is working on a new play set in her native Louisiana.