Description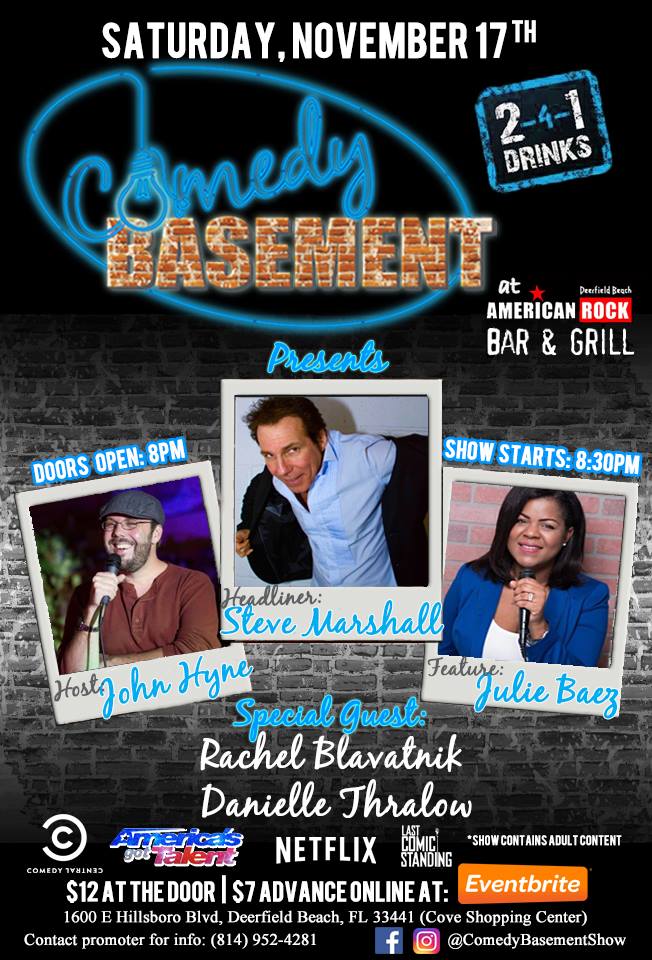 Comedy Basement presents the hilarious Steve Marshall (NBC) on Saturday, Nov. 17th!
Show includes Miami's own Julie Baez, with host John Hyne, and special guests Rachel Blavatnik & Danielle Thralow.
Doors open at 8 and show starts at 8:30 PM.
As always, 2-for-1 drinks all night and free parking!
Here's a little more info on this month's headliner, Steve Marshall!
"THE MARSHALL PLAN - Bad behavior makes for good comedy."
That's the way the Florida New Times described Steve's comedy.
"Marshall's style relies on a sharp mind and a complete inability to properly behave himself. Nothing too controversial, just a little good-old-fashioned honesty."
RATED H FOR HONESTY.
Steve doesn't behave, he tells the truth.
Don't Behave.....
Don't Behave is my philosophy for finding one's true self. I discovered if I broke patterns and paradigms I behaved more naturally.
Simply walking to a familiar place in a different route opened my subconscious to spontaneity.
The next step or evolvement is transcending.
Knowledge becomes the diving board to bounce on and inspire one to dive.
On stage I am diving into the unknown, using different approaches as a diving board to propel me.
The same in my personal life.
The personal becomes the diving board for my stage performance and the stage performance becomes the diving board for my personal life.
Therefore on or off the stage I Am Me.