From Def Comedy Jam & Comicview, Baltimore's "Comic Cop" Timmy Hall headlines Mad Hatter Cafe Featuring: Kim Callaghan Host: Danny Charnley
About this event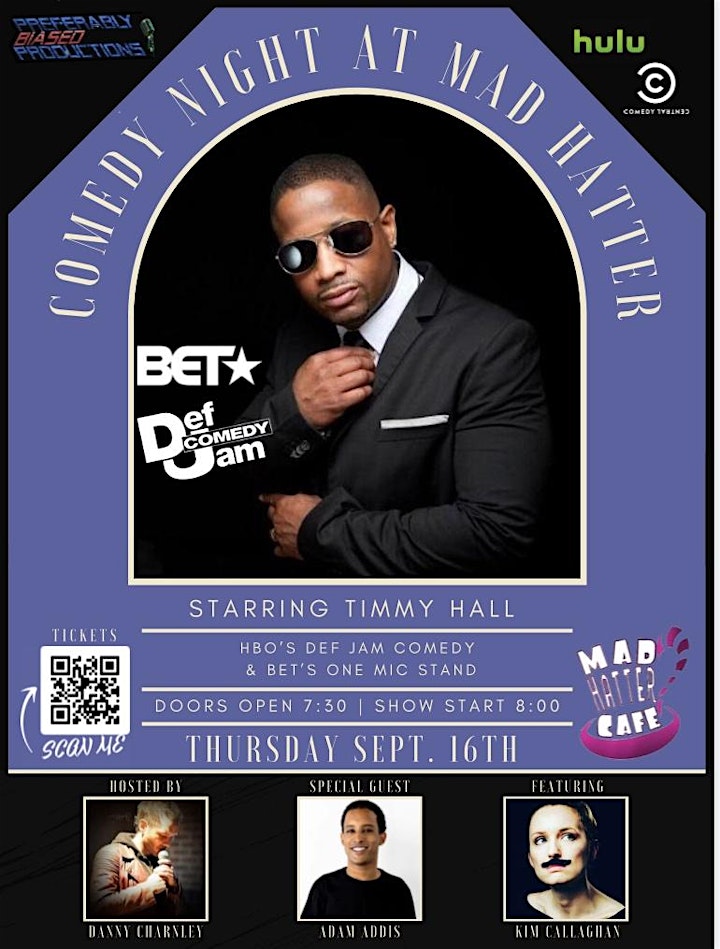 Timmy Hall - "The Comic Cop"
A true stand up comic is the only way to describe Baltimore's own Timmy Hall.
With an original style that sets him apart from the rest, Timmy Hall, who is actually a retired Baltimore City Police Officer, finds a way to bring that part of his life on stage. Known around the country as the "Comic Cop" he is considered the next best thing to hit the scene. With his high energy and witty material will have you laughing from the time he hit's the stage. He has received the respect of some of the most top rated comics in the business . He has been seen on BET'S Coming to the Stage, BET'S Comic View, HBO'S DEF COMEDY JAM and BET'S One Mic Stand. He has also performed in some of the most prestigious comedy clubs across the country. He had been blessed to share the stage with well known comics such as Lavelle Crawford, Kevin Hart, Michael Colyar, Deon Cole, Robert Townsend, D L Hughley, JB Smooth and the legend John Witherspoon just to name a few. In addition, he has also shared the airwaves with the legendary Donnie Simpson best known for Video Soul serving as his co-host on Majic 102.3. If you like stand up comedy, sit down but don't dare relax and witness true stand up comedy at its finest.
Featuring Kim Callaghan and hosted by Danny Charnley.
Special Guest: Adam Addis
Organizer of Comedy At Mad Hatter : Starring "The Comic Cop" Timmy Hall!