Description
Why not start the day laughing?
Turn the commuter frown upside down:(
Be part of history and attend the world's first-morning comedy club!
We're on a mission to provide laughter, wellness and to connect like-minded people by turning the commuting and entrepreneurship culture upside down and transforming mornings into something truly glorious.
Benefits of laughing before work
Findings of a study by the Office for National Statistics looking at commuting and personal well-being. Commuters are more likely to be anxious, dissatisfied and have the sense that their daily activities lack meaning than those who don't have to travel to work even if they are paid more.
Revitalising morning rituals in modern life using humour, mindfulness and social connection
Benefits of laughter:
1. Laughter relieves stress
2. Laughter helps fight infections
3. Laughter reduces pain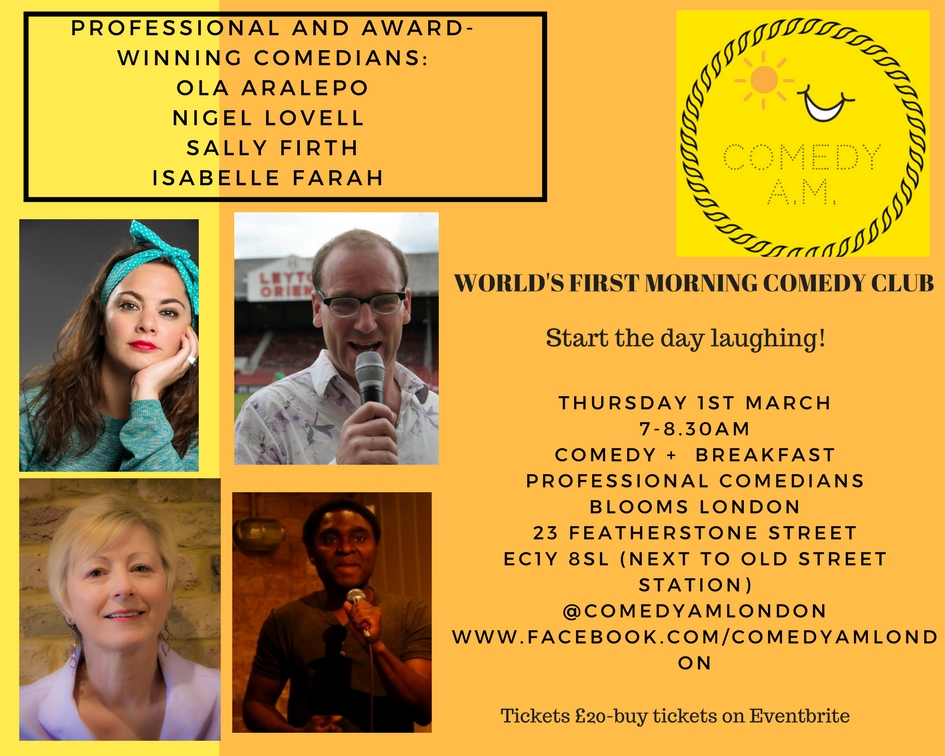 High-quality professional and award-winning comedians performing
Comedy A.M. features the best professional comedians from around the world. There will be no open mic, to ensure high quality performances.
Nigel Lovell
Nigel has been performing comedy all around the UK for the last seven years. Twice finalist in the UK Pun Championship he has also been seen on Charlie Brooker's Election Wipe on TV. Nigel has created, curated and compered the hit Edinburgh fringe show – "Worst Show on the Fringe" for the last 5 years. It's been featured on BBC2's "Edinburgh Nights with Sue Perkins", was described as "one of the most original and innovative show concepts at the fringe" (BBC Radio) and was rated as one of the Top 50 Unmissable shows of the Fringe in 2016. In 2015 it was one of the Top 10 Free Shows on the fringe. It has received 4-star reviews from a range of publications.
Isabelle Farah

Funny Women Regional Finalist 2018, Isabelle is a British Lebanese actress, comedian, and writer. She grew up in North London and has also lived in Dakar, Senegal and Beirut, Lebanon. Credits include many things in TV and theatre playing wenches, murderers, and overbearing mothers that you won't have seen, and a starring role in an episode of Playdays from 1990 which you can watch if you have a VCR player and know her mum. She's in pre-production to direct her first short film and is also writing a one woman show.
Sally Firth
The character Sally Firth (real name, Sian Doughty) is the mother of a young male stand up comedian who does her version of his act using his notebook. In 2015 Sian was a semi-finalist in the Golden Jester Competition. In 2016 she beat King Gong at the Comedy Store, Manchester, won Beat The Frog at the Frog and Bucket, Manchester, won "Should I Stay or Should I Go?" in Leicester and won the Comedy Carousel at Birmingham Glee Club. Loads of winning. She has also taken part in the 2014, 2016 and 2017 Edinburgh Fringe, the 2015 and 2017 Brighton Fringe, the 2017 Hastings Comedy Festival and the 2017 Camden Fringe. "Sally Firth" was named One To Watch by Funny Women in 2016 and 2017, was shortlisted for Silver Stand Up of the Year 2017 and was a semi-finalist in Welsh Unsigned Act of the Year 2017. She has beaten the blackout at Up the Creek in London three times, in 2015, 2016 and 2017 and won King Gong at the London Comedy Store in June 2017. Loads more winning.
Arthur Mitchell
Review quotes: 'Potentially one of the funniest people in our office!'
Ola Aralepo
Ola is a very funny man, a cheeky chappie, so no wonder he recently won the 2017 Toastmasters UK Humorous Speech Contest. Ola performed a show called Polyphony at the Edinburgh Fringe last year where he introduced a concept of "Stand-up Therapy".
Breakfast
Don't worry about breakfast and coffee- we got you! We provide free breakfast.

Excellent and easy transport links
Great transport links for you to go to work/getting into Central London.
The venue has an excellent location- you can definitely get to work on time:
1 minute from Old Street station

5-minutes walk from Shoreditch High Street Station

5-minutes from Moorgate Station

8-minutes minute walk from Liverpool Street Station