About this Event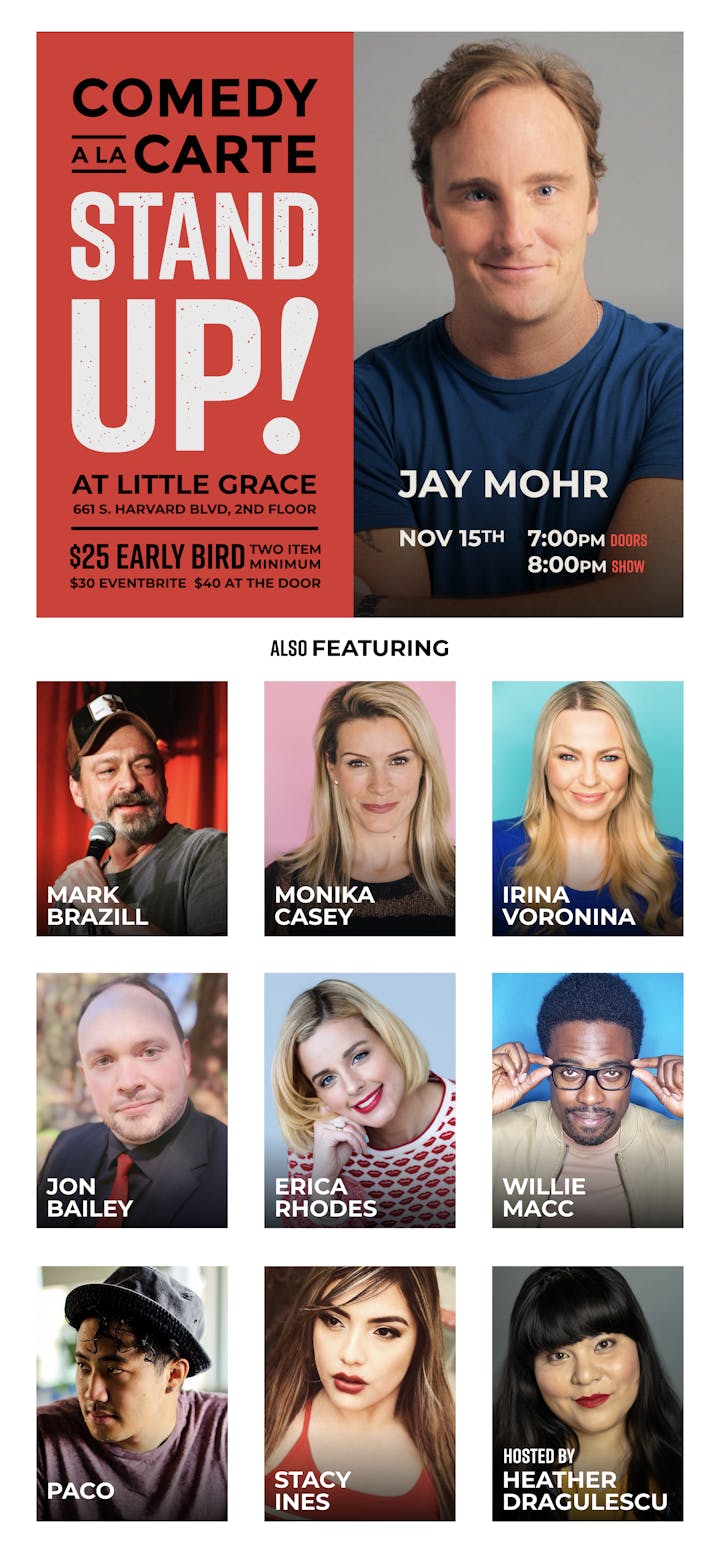 Join us at Little Grace for a delicious night of stand up.
Early Bird Tickets - $25
Online Tickets - $35
Door Tickets - $40
Presented by California Auto Mall
First 50 ticket sales will receive a $200 voucher certificate toward the purchase of a new or pre-owned vehicle from California Auto Mall.*
Show Info
Comedy a la Carte Stand Up! is a stand up comedy showcase featuring top comics and celebrity headliners you've seen on TV and in film.
For additional shows, merch, and more check out comedyalc.com.
The show starts at 8:00pm. Doors open at 7:00pm. Arrive early for best seating and to place your food and drink orders. Two item minimum purchase.
Thank You to our Sponsors!
Make sure to stop by and take some fun photos at our photobooth brought to you by California Auto Mall! California Auto Mall is your #1 source for buying high-quality, pre-owned vehicles in Los Angeles, CA!
Additional support for the show provided by ikatbeauty, Eyes for Beauty, and Las Cazuelas! Please make sure you check out these incredible local businesses who believe in live, independent comedy.
Little Grace is a flexible event space in Koreatown. We host our own pop up events, work with talented local chefs and creatives to bring their visions to life, and act as a rental space available for private parties and events.
Little Grace is a family of creative individuals dedicated to highlight and elevate local talent through the creation of unique experiences. We hope to develop an enduring community in Los Angeles, built at the intersection of authentic creative expression and open-hearted reception. We believe we have the power to reclaim our personal relationships to culture and the arts by leading with commuity, knowledge, and a little grace.
California Auto Mall is your #1 source for buying high-quality, pre-owned vehicles in Los Angeles, CA! Our team is dedicated to providing you with the ultimate car-buying experience. Our exclusive relationships within the dealer community allow us to purchase a wide variety of lease returns and new car trades at exceptional values, and we pass on the huge savings to you! In addition, we offer a full array of financing options to help you get into the car of your dreams, regardless of your financial situation.
*Only valid at California Auto Mall. This voucher is not redeemable for cash. There will be no replacements provided if this voucher is lost, stolen, destroyed or used without the authorization of California Auto Mall. This voucher cannot be combined with other vouchers and is not valid with other promos and offers. Subject to vehicle availability and change without notice. Contact California Auto Mall for full details.
exp. 12/31/2019
Whether you're joining us at one of our Stand Up, Improv, or Variety shows all over Los Angeles, or we're creating a custom experience for your event or venue, Comedy a la Carte promises top shelf entertainment that's guaranteed to make you laugh!
Hearing Assistance Available
This facility is equipped with a hearing assistance system. Please email hello@comedyalc.com to request a receiver.