Description
Teacher: Walt Frasier
One Class $40 Full Session (12 weeks) $250
Drop into selected class weeks for just $20. Give the class a shot and if you have fun, the teacher will prorate the full session.
WEEKLY CLASSES
September 7, 14, 21, 28, October 5, 12, 19, October 26
November 2 12:30pm SHOWCASE for friends and family
Bonus Classes 12pm November 9,16,23
Improv and Stand-Up Comedy help students discover their best selves building self confidence, creative writing, critical thinking and public speaking. We offer weekly classes Winter, Spring and Fall, plus Summer Camps. We also have teachers at schools, camps and community centers on weekends and after school. Each session starts with Improvisation, playing games that are a ton of fun while teaching valuable life skills. These are the same games we play with corporate groups to develop better leaders, team building, sales, service etc. For our public sessions we include Stand-Up Comedy, taking stories of experience and observation, then crafting original comedy routines. Each session ends with a performance showcase of original and improvised comedy skits completely created by the students. The classes and workshops integrate perfectly with cultural arts, language arts and character building/guidance programming.
Bring this program to your school. We have teachers in classes and after school presenting workshops and full weekly program. Our shows IMPROV 4 KIDS and IMPROV 4 TEENS perform for K12 and family audiences hosting field trips iin Times Square and touring nationwide.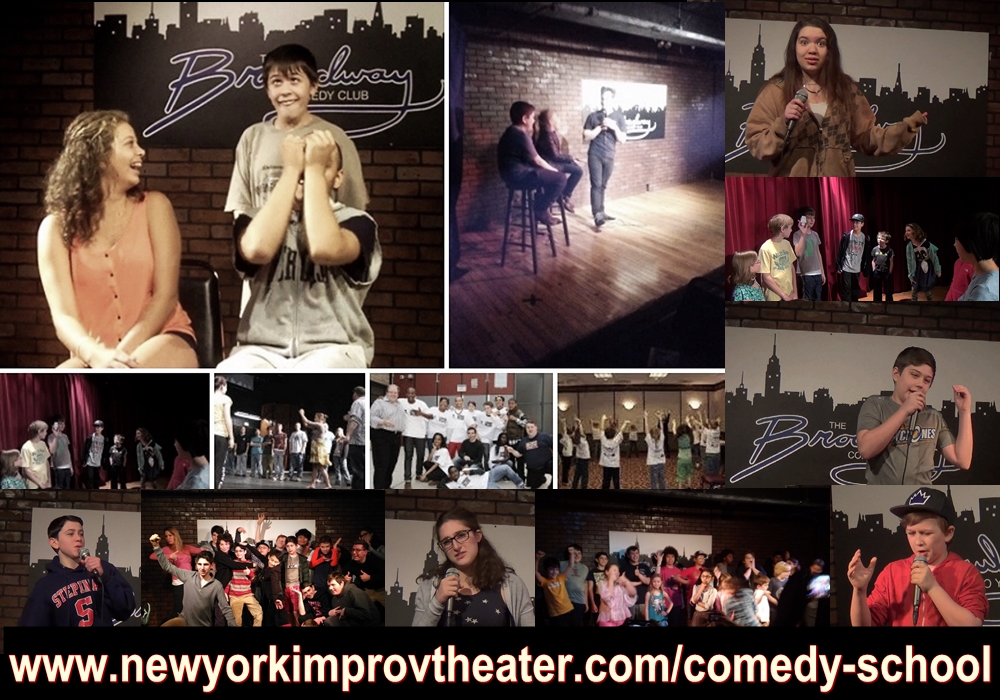 ARTISTIC DIRECTOR Walter Frasier
Did you catch Walt Frasier on TruTV's "Friends Of The People" in their 2nd season. Go to Netflix – RIGHT NOW!!! – to see Walter in Lilyhammer (Season 3, Episode 8) as the American comic performing at Steven Van Zandt's Norwegian club. Also now on Netflix – Blue Bloods (Season 3, Episode 8) see Walter in spandex body suit in first 5 minutes as Arnie the Homeless Avenger. Royal Pains (Season 6 Episode 3) as the Choking Victim. Past credits include sketch bits on Letterman (9 episodes), Stakervision (MTV2), Naked Brother's Band (NICK), Hair Trauma (WE) and numerous commercials including Dr. Oz's Fat Pants. Theater Credits include Off Broadway, Touring and Regional Theater plus over 5000 professional Improv Comedy Shows with EIGHT IS NEVER ENOUGH (AKA LMAO Off Broadway. Improv 4 Kids, Improv 4 Teens, Absent Minded Comedy).
Walt Frasier is the former director of instruction for the Comedy Hall of Fame (2009-2011) and is the founder of Corporate Comedy of America. In the past 15 years, clients include teams from JP Morgan Chase, IBM, Morgan Stanley, Master Card, American Express, NYC Schools (DOE VENDOR), Microsoft/BING, Twitter, Louis Vuitton, Coach, Home Depot, Enrst & Young, GM, KRAFT, UBS, UNILEAVER and 100s more smaller/local firms.

Follow Walt on Twitter – IF YOU DARE
https://twitter.com/waltfrasier