Comedians, Brunch, & BBQ is a Chrisconnections hosted event at Events To Remember. Enjoy great food, spirits and laughs this Father's Day!
About this event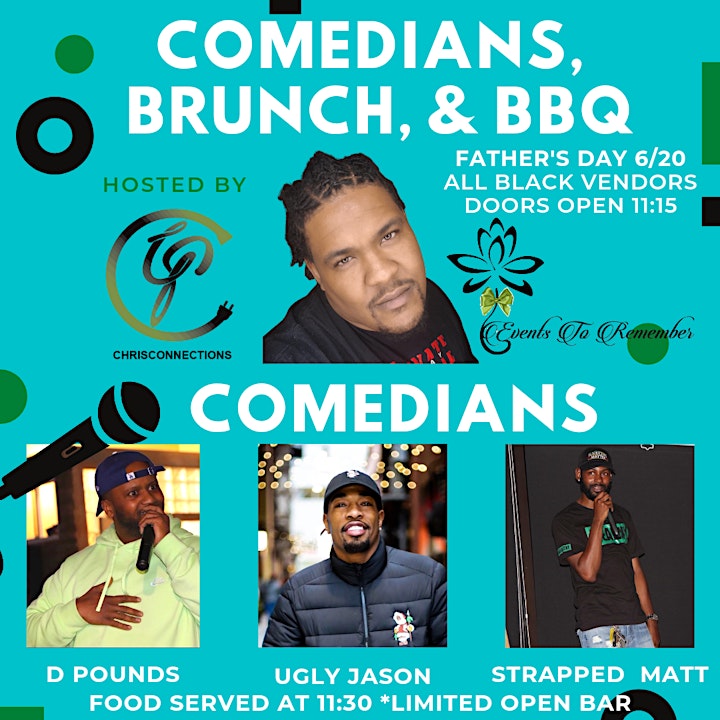 Come eat,  laugh,  and drink this Father's day at the Comedians,  Brunch,  & BBQ.  The Event Hosted by Chrisconnections will be a Vibe with food by Chef Xavier from Xav's Catering,  drinks curated by Mixologist Justice Akuezue from The Exchange,  and atmosphere created by Events To Remember.  There will be a explicit comedic stand-up performance by Ugly Jason, D Pound,  and Strapped Matt.  Chrisconnection hosted events prioritize black vendors.   The doors open at 11:15, the food, and spirits starts at 11:30, the laughs start at noon.
Tickets:
$85 for 1
$160 for 2
$300 for 4
$450 for 6
Only ticket offered on Eventbrite are for 4 guest.  All other tickets can be purchased from Ig: Chrisconnections, or Events To Remember llc.  The Event will be held at 21421hilltop suite 29, Southfield,  Mi.  For more information or tickets call (248)213-8981 or Email: thechrisconnections@gmail.com.
COMEDIANS, BRUNCH, & BBQ MENU
Bacon and Sausage Frittata
Vegetable Frittata
Thick- Cut Bacon
Sausage Links
Grits
Sausage Gravy
Biscuits
BBQ Ribs
Smoked Beef Brisket
Roasted Potatoes
Ma's Mac n' Cheese
Fresh Fruit Bowls
Assorted Desserts
Organizer of Comedians, Brunch, & BBQ