About this Event
Headliner James Johann was born in the Midwest during the 70s era of bell-bottom jeans, wood-paneled station wagons and disco music. His childhood upbringing was significantly influenced by country music, countless bad haircuts and Catholic school. In 1991, James began his stand-up career in Kansas City. Today, James is a long-time veteran of the stand up comedy circuit, performing at clubs across the country. His self-deprecating sense of humor and high energy style come together to create an unique onstage persona. James relies more on his brain than the profane and his comedy is a truthful and hilarious reflection of life as he sees it. In July 2004, James performed at the "New Faces of Comedy" showcase at the Montreal "Just For Laughs" Comedy Festival. James was also featured on Comedy Central's "Premium Blend" in 2005.
For the next few years, James was a featured performer on the "Paying For The New Trailer" Tour starring Jeff Foxworthy and Larry the Cable Guy, which toured at theaters across the country. Next James was a part of "The Slackers Tour", a National tour from the producers of The Blue Collar Comedy Tour. Reno Collier, Pat Dixon and James played in clubs across the USA. James has appeared on Country Music Television, Comics Unleashed with Byron Allen and The Late, Late Show with Craig Ferguson.
James currently headlines comedy clubs all across the nation and travels the world doing stand-up on Carnival and Norwegian Cruise lines. He is co-host of the weekly podcast "The Mind Behind" with comedian Jill Maragos. In January 2019, James will be a featured performer on "Dry Bar" comedy, which is popular on the internet.
Feature Act: Aaron Naylor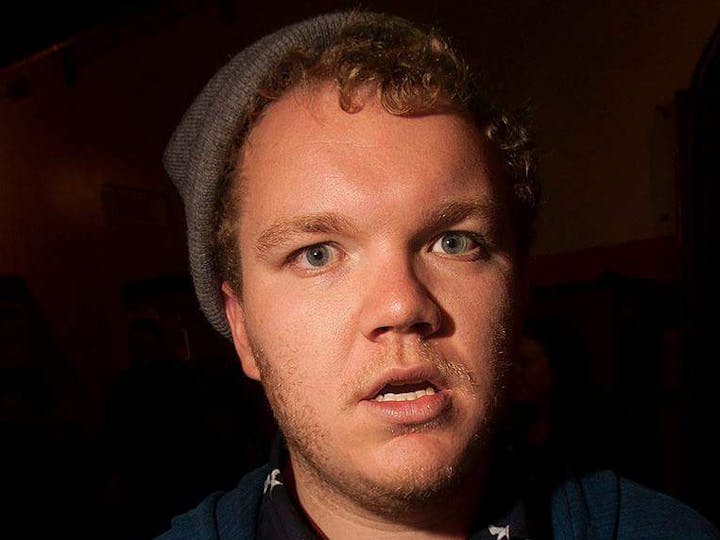 Comedian Aaron Naylor
Aaron Naylor is a stand-up comedian from Kansas City, MO. He was the winner of the 2014 Kansas City Local Comic Standing competition, named the 2017 Funniest Person in Wichita, and has performed in the Devils Cup Comedy Festival, Orlando Indie Comedy Festival, Gilda's Laughfest, Bird City Comedy Festival, KC Comedy Festival, San Francisco Sketchfest, Crom Comedy Festival, Memphis Comedy Festival, Cape Fear Comedy Festival, Out of Bounds Comedy Festival, Blue Whale Comedy Festival, was a finalist in the 2017 Trial by Laughter, and placed 2nd in the 2016 Cleveland Comedy Festival. Aaron has opened for real people like Bret Ernst, Ryan Hamilton, Tony Hinchcliffe, Adam Cayton-Holland, and Shane Mauss. He's been described as "what happened to you?" by his doctor and "one of the best young comics in the the world" by a very important person who wasn't his mom.