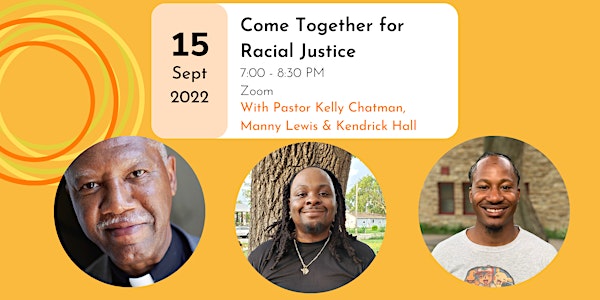 Come Together for Racial Justice: September 2022
Come Together for Racial Justice is a convening for leaders to learn, share, and mobilize for racial justice.
About this event
Looking to build relationships across boundaries?
Desiring a community centered in BIPOC voices and leadership?
Want to ground yourself in conversations with others committed to racial justice?
If yes to any (or all) of those: join us on September 15, 2022 at 7pm Central on Zoom for Come Together for Racial Justice.
Each month, we'll feature one or more neighborhood-based leaders reflecting on themes like racial healing, leading in diverse contexts, asset-based community development and more. Our aim is to create a space for mutual learning and building relationships, being intentional about cultivating trust, welcome, safety, and a sense of belonging.
September's session will feature a conversation with Rev. Kelly "PK" Chatman, Manuel Lewis, and Kendrick Hall.
MANUEL "Manny" LEWIS (he/him)
My name is Manuel Lewis. I'm a youth mentor with a decade of experience working with youth in North Minneapolis to find ways to productively and creatively spend their time. I currently serve as CLNE's youth community organizer.
Outside of work, I enjoy spending my time with my friends and family; cooking; and hanging out with my dog.
KENDRICK HALL (he/him)
I am a 31 year old, African American male from North Minneapolis. I am CLNE's Director for youth outreach and community organizing, and a graduate of Gustavus Adolphus College and Luther Seminary, where I earned a Masters in Divinity with a focus on Justice, Reconciliation, and Restoration. I have had the privilege of serving the broader ELCA as a Hunger Justice Advocate in a deployed position at Lutheran Advocacy Minnesota. I have also had the privilege in the Harrison Neighborhood as a community activist, youth developer, and manager at Venture North Bike Shop.
I stand here today in solidarity, realizing that together we have the power to change variables within the very communities where we reside, work and worship. I believe that God has called me to help in being the catalyst to provide spaces for healing.
Can't make it on September 15th? Mark your calendar for future sessions on the third Thursday each month:
October 20, 2022
November 20, 2022
December 15, 2022
Learn more at clne-mn.org/cometogether