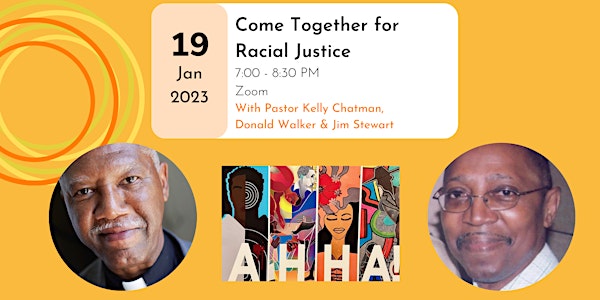 Come Together for Racial Justice: January 2023
Come Together for Racial Justice is a convening for leaders to learn, share, and mobilize for racial justice.
About this event
Looking to build relationships across boundaries?
Desiring a community centered in BIPOC voices and leadership?
Want to ground yourself in conversations with others committed to racial justice?
If yes to any (or all) of those: join us on January 19, 2023 at 7pm Central on Zoom for Come Together for Racial Justice.
Each month, we'll feature one or more neighborhood-based leaders reflecting on themes like racial healing, leading in diverse contexts, asset-based community development and more. Our aim is to create a space for mutual learning and building relationships, being intentional about cultivating trust, welcome, safety, and a sense of belonging.
January's gathering will be hosted by Pastor Kelly "PK" Chatman, and feature Donald Walker (he/him) & Jim Stewart (he/him) and their work together with "Artistry. Honesty. Healing. Action!" (AHHA!)
Donald explores his experience living in America as a person of color through his genius, mixed-media paintings. The first African American artist to work at the Minneapolis Star Tribune, Walker is an award-winning, nationally recognized artist, graphic designer, muralist, author, and illustrator whose work has been displayed at the New York Art Expo and by such organizations as the Nordstrom Foundation, the Cystic Fibrosis Foundation, General Mills Corporation, Target Corporation, and the Minnesota Vikings.
Jim first saw Donald's artwork before meeting Donald, and was immediately moved by the imagery and the way the art makes it possible to have cross-racial discussions in new ways. He is also professor emeritus of history at Macalester College and an eminent scholar of the American abolitionist movement. He is the creator of "Jim Stewart's Historical Tonic for Fragile White Folks," a YouTube video series examining the history of white supremacy after the Civil War.
AHHA! is an organization of African American artists, whose purpose is to seek to use the art inspired by our lived experiences to engage residents of traditionally white suburban communities in the Twin Cities area in transformative conversations and activities that heal the breach and create mutual understanding.
Can't make it on January 19th? Mark your calendar for future sessions on the third Thursday each month:
February 16, 2023
March 16, 2023
Learn more at clne-mn.org/cometogether