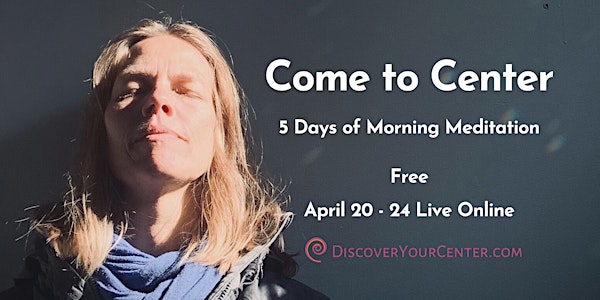 Come to Center -- 5 Days of Morning Meditation
20-minutes daily for 5 days in community meditation. Breathe, BE, build resilience in times of uncertainty.
About this event
Come to Center - 5 Days of Morning Meditation
20-minutes a day to Sit, Breathe, BE with Guided Meditations and the power of community presence.
What if you were to allow yourself just 20-minutes in the morning to come to center, be still, tune in?
Join us for 5 days and let the hope, strength, resilience and clarity come through in the face of uncertainty. Slow down, listen to the deep inner wisdom, and set the tone for your day.
We begin Monday April 20th at 7:30am in a Zoom meeting.
**The call will stay open for 10 minutes after for optional community connection.
If you cannot make it live, you can listen at a time that works for you. A recording for each day will be emailed to participants.
Karla Johnston-Krase, M. Div, RYT, is the creator of Discover Your Center and former yoga studio owner. Drawing from ancient wisdom of yoga and Ayurveda, energy healing, and life experience she guides other in finding presence and possibitlies through life transitions.
For more go to www.DiscoverYourCenter.com