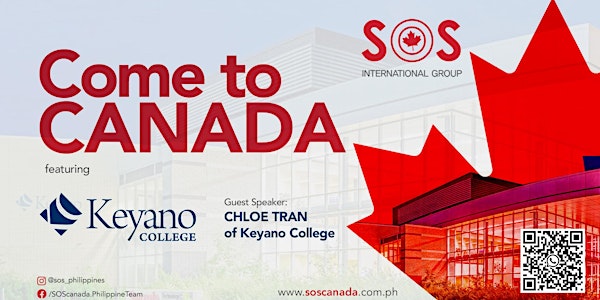 Come to Canada: featuring Keyano College | Guest Speaker: Chloe Tran
Come to Canada: featuring Keyano College | Guest Speaker: Chloe Tran
About this event
What do you need to study and work in Canada? To learn about the process, join our free webinar on December 07 at 2 PM!
Guest Speaker: Chloe Tran of Keyano College
Zoom Meeting Link: https://bit.ly/SOScanadazoom137
Here are the reasons why you need to choose Keyano College
- competitive tuition rates
- affordable housing
- offers a direct link between training and careers in the industry and community
- higher potential average earnings than the Canadian average
- set in the heart of Northern Alberta
- Postgraduate work permit eligible
Plan with SOS Int'l and start your life journey to Canada!
See you on December 07 at 2 pm!