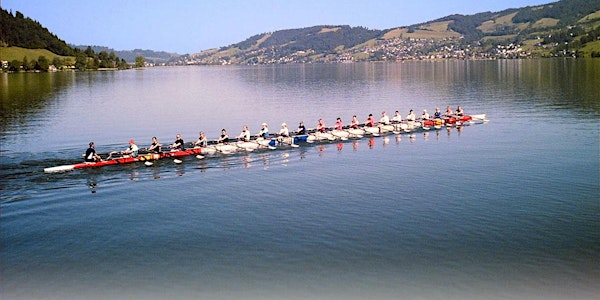 Come row the longest rowing boat in the world!
By Swiss Students and Affiliates at Yale (SSAY)
Date and time
October 5, 2015 · 4pm - October 6, 2015 · 8pm EDT
Location
New Haven Rowing Club 407 Roosevelt Drive Oxford, CT
Description
Take advantage of the unique opportunity to row a 24-person boat!
Boat outings
Monday & Tuesday, October 5-6th
4:30-7:30pm
Please register for one of two three-hour outings. Free transportation to the New Haven Rowing Club venue will be provided for registered participants. Buses leave at 4 pm from 195 Prospect St.
No rowing experience required. Ability to swim required.
Seats are available on a first come, first served basis. Due to limited seating, please only register if you can definitely make it to the outing and let us know in case you have to cancel so we can invite people from the waiting list. If there are no more tickets available, select the waiting list tickets so we can let you know if a spot opens up.

Seminar on "team spirit"
Monday October 5th
12-1pm
Evans Hall (SOM), Room 2430
165 Whitney Avenue, New Haven, CT
Also, come join us for a free lunch on Monday, October 5th from 12-1 pm at Evans Hall (SOM). Talks will be held on "Team Spirit". Main speaker: Melchior Bürgin, former Swiss rower, who competed in the Olympics three times and won the World Rowing Championships in the double scull with Martin Studach in 1966. Bürgin is also the former head of the Swiss rowing boat manufacturing company "Stämpfli". Room TBD.
About the organizer
The events are organized by Swiss Students and Affiliates at Yale (SSAY) in collaboration with the Yale Graduate Crew and the New Haven Rowing Club. The world's largest rowing boat is brought to you by the boat manufacturer Stämpfli and swissnex Boston, the world's first "scientific consulate" – connecting Switzerland and North America in science, education, art and innovation. 

Find out more about the Stämpfli 24 Express tour in the United States here. 

Contact: michele.zollinger@yale.edu, christian.rhally@yale.edu