Event Information
Location
The Cabanas at the Maritime Hotel
88 9th Ave (enter at 17th Street)
New York, NY 10011
Description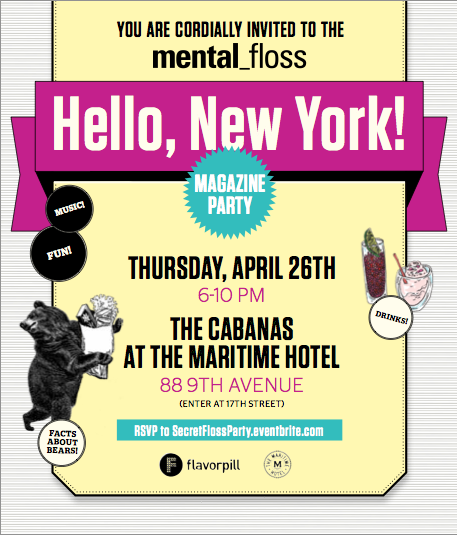 After 10 years of living it up in sunny Birmingham, Alabama, mental_floss is excited for our big move to New York. To celebrate, we're throwing our *First Ever* magazine release party, and we're inviting all our closest friends, neighbors, and you!
Join the editors and our wonderful friends from Flavorpill for a night of drinks, laughs, music, topiary, and, well, facts about bears. Oh, and there's a brand new issue you'll get a sneak peek at, too.
Hurry up and RSVP! Spaces are limited...
See you soon,
your pals at mental_floss
---
FAQ:
Q: How do I get to these Cabanas you speak of?
A: First, make sure to RSVP! If you're coming by subway, it's near the A,C,E at 14th Street, or the L at 8th Ave. The entrance to The Cabanas is on 17th St and 9th Ave.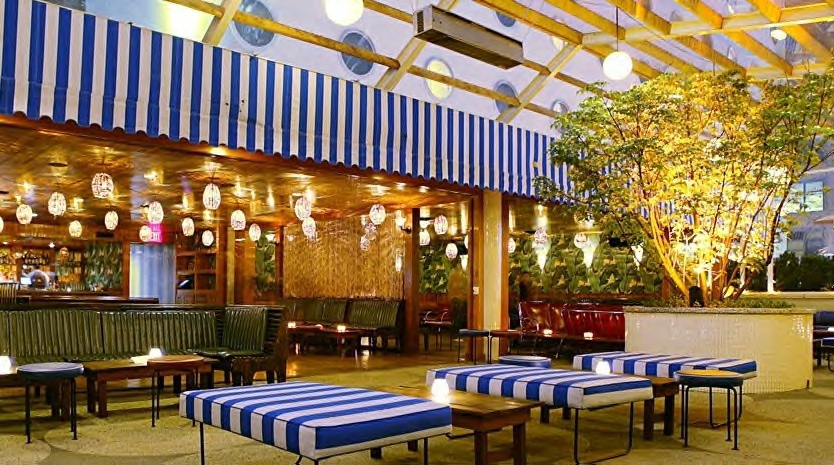 Q: Are you charging at the door? And do I need to be a subscriber to attend?
A: No, we wanted this to be free so we could meet all of you! And nope--though we wouldn't mind if you decided to subscribe to the magazine.

Q: Facts about bears sound pretty enticing. But do I really want to hang out with the mental_floss staff?
A: Of course you do! Not only are we giving away lots of (bad) prizes, and copies of the brand new issue, but look at us. We look like nice folk, right?

Q: I see you've got fancy drinks on the invite. Do I have to be over 21 to attend?
A: Yes. But if this goes well, we'll keep doing these until you're old enough to get in.
Q: What's the dress code?
A: Upscale casual. Though, if you decide to wear a seersucker suit, a top hat, a velour Puma tracksuit and headband, or athletic knee socks from the 70s, you just might be rewarded for the effort.
Q: Since you're answering questions, which came first: orange the color or orange the fruit? And why are legal pads yellow? And who cleans up after seeing eye dogs?
A: Those are the type of questions we're used to answering! You can find those answers here, here and here.
Date and time
Location
The Cabanas at the Maritime Hotel
88 9th Ave (enter at 17th Street)
New York, NY 10011