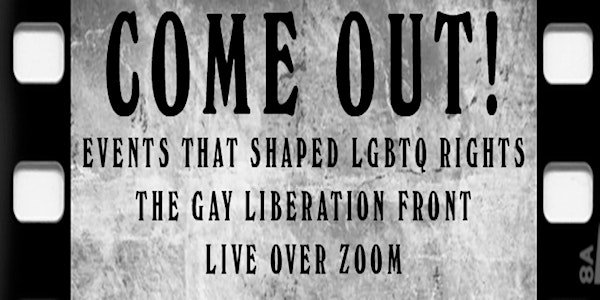 COME OUT! Events That Shaped LGBTQ Rights
Martha Shelley, Ellen Broidy, Perry Brass, Martha Shelley Mark Segal, Flavia Rando, & Mark Horn in conversation with August Bernadicou.
Refund Policy
Contact the organizer to request a refund.
Eventbrite's fee is nonrefundable.
About this event
Pioneering Gay Liberation Front activists Martha Shelley, Ellen Broidy, Perry Brass, Mark Segal, Mark Horn, and Flavia Rando discussing forgotten Gay Liberation events that shaped the world and created civil rights. Moderated by August Bernadicou of The LGBTQ History Project.
The Gay Liberation Front Exploded American Sexuality and Created the Modern LGBTQ Movement:
The Gay Liberation Front (GLF) was the first—and most radical—LGBTQ organization formed after the 1969 Stonewall Rebellion. Many of its members were veterans of the feminist, peace, and civil rights movements. They put everything they knew into creating an organization devoted to the liberation of all people, with queer people no longer on the margins of other people's liberation. Its members quickly created organizations for minority queer revolutionaries (Third World Gay Revolution), transpeople (STAR: Street Transvestites Action Revolution), and young people first realizing an LGBTQ identity (Gay Youth), among others. At the center of GLF was "consciousness raising," a feminist technique to reveal the universality of female oppression. GLF used it to show how gay oppression was steeped in oppressive patriarchy: the idea that men—and machismo—had to rule over women, queers, and others shoved into powerless positions.