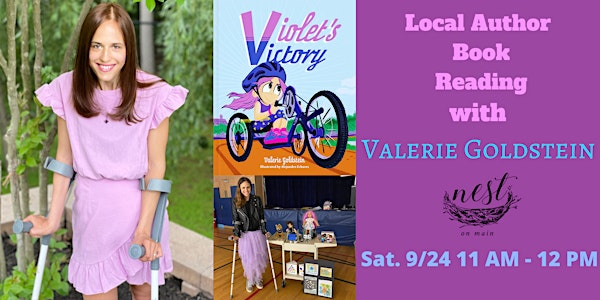 Come Meet Local Author Valerie Goldstein!
Come Meet Local Author Valerie Goldstein!
When and where
Location
Nest on Main 135 Main Street Northport, NY 11768
About this event
We gladly welcome local author Valerie Goldstein to Nest On Main on September 24th at 11 AM! Join us for a reading, discussion, and signing of Violet's Victory: a book about perseverance and kindness. Valerie shares her personal experience, and her inspirational story will inspire all! Violet's Victory is an autobiographical picture book that tells the story of a young girl with lavender hair named Violet. Despite using forearm crutches, she dreams of keeping up with her friends in the track and field race. When Violet discovers an amethyst-colored handcycle at the bicycle shop, she begins to make her dreams possible. Find out how Violet becomes Victorious!
Violet's Victory is a children's book about different abilities, perseverance, and the kindness involved in accommodating our friends with different needs.
Discussion Topics Covered at the Event: Different Abilities, Adaptive Equipment, Kindness and Helping Friends, Perseverance, and Goal Setting.
Valerie Goldstein is a writer, social worker, wife, and mother of three children. In the year 2000, Valerie was a passenger in a motor vehicle accident, leaving her an incomplete quadriplegic. Valerie has written various works on different abilities and conducts presentations for children on varying abilities. Her favorite pastime is visiting local bookstores and libraries with her children and handcycling on the boardwalk.
You can also find Valerie Goldstein on Facebook and Instagram - @valy_gold