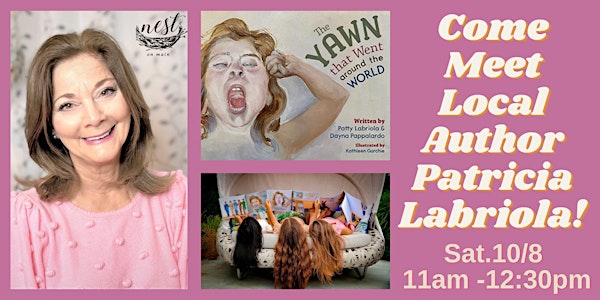 Come Meet Local Author Patricia Labriola!
Learn how one little person's actions make a huge impact!
When and where
Location
Nest on Main 135 Main Street Northport, NY 11768
About this event
Join us as we welcome local author, Patty Labriola, to Nest On Main. Patty will be here on October 8th to share her beautifully written and illustrated children's book, "The Yawn That Went Around The World". Be inspired page by page and learn how one little person's actions can make such a huge impact. This story is about how a yawn traveled around the world to inspire others. If the gesture of one can affect so many people, imagine what a smile, a hug, or a shared word of encouragement could do!
On Saturday morning, Patty will do a meet and greet, read her story out loud, and will also sell copies of her inspirational kid's book.
Patty Labriola grew up in Brooklyn and graduated from the Fashion Institute of Technology. While working in the fashion industry, she became part of an entrepreneurial team in her early twenties, coaching others in business ownership. She finds joy in surrounding herself with family, friends, and mostly the children who inspire her creativity. "The Yawn that Went Around the World" is her first book and collaboration with longtime friends and business associates Dayna and Kathleen. Patty currently lives in Fort Salonga, NY with her husband, Dennis. Their daughters, Christy and Stephanie, son-in-law, Kevin, and grand daughters Emily, Beth, Kayla, and Jessica - turn the ordinary into the extraordinary!