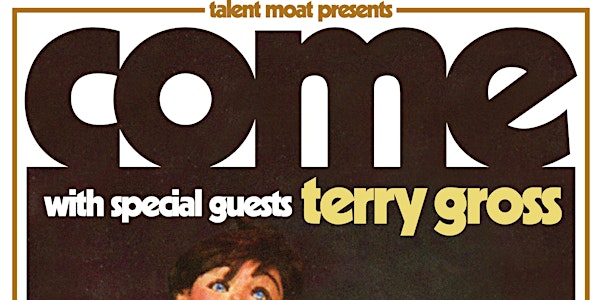 Come and special guests Rip Room at the Make-Out Room
COME (Matador/Fire Recs) play dissonant punk blues, relentlessly driven by Thalia Zedek and Chris Brokaw's aggressive double-guitar attack.
When and where
Location
Make-Out Room 3225 22nd Street San Francisco, CA 94110
Refund Policy
Contact the organizer to request a refund.
Eventbrite's fee is nonrefundable.
About this event
Talent Moat presents Come and special guests Rip Room. 6pm doors. $20 adv., $25 door. 21+. Mask n' vaxx required.
COME. A cornerstone of the Matador stable many years ago. A band that requires no introduction, but here's one for the uninitiated.
New York, 1990. Guitarists Thalia Zedek (Dangerous Birds/Live Skull) and Chris Brokaw (Codeine) both relocate (separately) to Boston from New York, where a year earlier, bassist Sean O'Brien (Kilkenny Kats) and drummer Arthur Johnson (Bar-B-Q Killers), had moved from Athens GA. These parallel tracks (sub)merge and, fittingly, make beautiful music together. Soon after the four play their first show together, Sub Pop releases the "Car" 7" as part of their Singles Club series. Following a heated game of rock/paper/scissors with other competitors (Google it), Matador emerges as the lucky label that releases Come's first of many masterpieces, Eleven:Eleven.
Despite being one of the best albums in this label's long history and one of the more memorable debut albums in an era full of 'em, Eleven:Eleven has been out of print for far too long. Pitchfork has called it "one of the most elusive gems of the Matador catalog, known for its knotty, torrential guitars and anguished vocals."
Eleven:Eleven is essential to understanding the music of the '90s. From All Music:
"One couldn't throw a brick around rock critics & college rock types in 1992 without hitting someone who'd talk about how Come was the new incarnation of the blues, often loudly and at great length ... But it's the Stones and acts like Patti Smith & Black Sabbath, not to mention the confrontation of no wave and other punk-inspired acts, that are more of a touchstone to what's going on than Robert Johnson. It's a uniquely sludgy, electric, strong fusion of sounds and styles, combining extreme angst and commanding power."
Brokaw and Zedek's emotional dual guitar work rivals Verlaine/Lloyd, chiming and majestic, cascading into feedback-ridden squalls informed by both punk and metal, sifted through one of the tightest rhythm sections ever assembled. Come toured extensively with Pavement, Sugar, Dinosaur Jr., and Nirvana, at those bands' request.
RIP ROOM is a 3-piece art rock group from SF. Nasty, bass-heavy riffs, dark vocal harmonies and bombastic drumming.