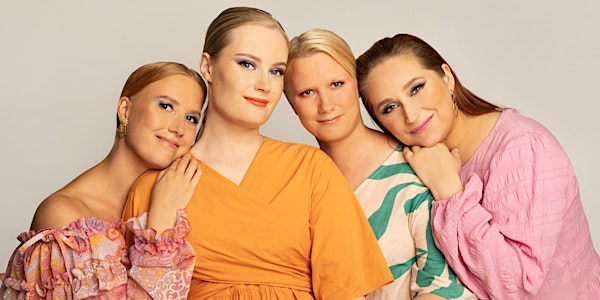 Come and find a fantastic musical gem: Kardemimmit!
Kardemimmit Concert – Finnish kantele instruments and magical vocal harmonies
When and where
Location
Martin Luther King Jr. Memorial Library 901 G Street Northwest Washington, D.C., DC 20001
About this event
Experience the captivating world of Finnish folk music with a modern twist with Kardemimmit [kʌr-deh-mim-mit]. This is an interactive concert for the whole family.
When: Sunday, October 2, 2022, at 3 pm (The concert lasts approximately 40 minutes.)
Where: Martin Luther King Library's Auditorium (901 G St NW, Washington, DC 20001)
Kardemimmit is a band of four incredible young women playing the Finnish national string instrument, kantele [kʌn-teh-leh], with a unique sound. Kardemimmit is in charge of their music – they compose, write lyrics, and produce. Alongside 15 and 38 stringed kanteles, singing plays a major role in the band's musical universe, where original pieces with a modern approach still have a strong foundation in Finnish and Scandinavian traditions. Some of the themes of the songs by Kardemimmit include soul sisterhood in its highs and lows, solidarity, and equality.
The event delivers fantastic music, but you can also learn about the instruments, intriguing facts about Finland, and even a few words of Finnish. The concert is suitable for all ages, and the Embassy of Finland brings it to you as part of the annual Kids Euro Fest program.
Sign up free of charge! You can book up to six tickets at a time.
More information about the band: www.kardemimmit.fi